Dr. Tammy Dean Inducted into LMU's Professional Hall of Fame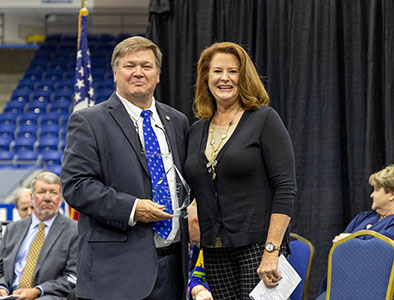 Lincoln Memorial University (LMU) inducted the Class of 2021 into its Educators', Literary and Professional Halls of Fame during Homecoming celebrations earlier this month. Dr. Tammy Dean, dean of the LMU-Caylor School of Nursing (LMU-CSON), was one of four inducted into the Professional Hall of Fame.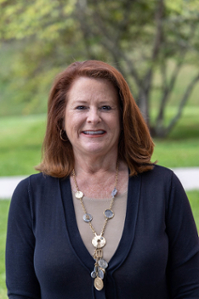 Dean was appointed as the dean of LMU's largest school in 2020 after serving as associate dean since 2018 and chair of the Bachelor of Science in Nursing (BSN) program since 2015.
With over 30 years of service to LMU, Dean has been a member of the LMU-CSON faculty since 1988 and has served as mace bearer at LMU Commencements as the longest serving undergraduate faculty member. She has served on LMU's Institutional Effectiveness Committee since 2014 and the Academic Council since 2007.
Dean is a registered nurse with practice experience in occupational health and oncology. She earned her BSN and Master of Science in Nursing degrees from the University of Tennessee, Knoxville. Dean earned a Doctor of Nursing Practice from Samford University in Birmingham, Alabama. She is a certified nurse educator with the National League of Nursing. Dean is a member of the Tennessee Organization of Nurse Executives (TONE), National League of Nursing, National Organization of Associate Degree Nursing, Phi Kappa Phi and Sigma Theta Tau.
Dean has been recognized with several honors and awards, including LMU Years of Service Awards, LMU-CSON Dean's Award and Excellence Award for Professional Nursing Clinical Excellence. She resides in Knoxville, Tennessee, and gives back to her community with service to Knoxville Area Rescue Ministries, LMU Women of Service and Hope Resource Center.
To be considered for induction into the Halls of Fame, the nominee must be an alum of LMU or an employee with at least 10 years of service. They must have been active in their area of expertise for a minimum of 10 years and made contributions or significant achievements in their field.
Deanwas honored during LMU's annual Homecoming celebration at the Educators', Literary and Professional Halls of Fame Induction and Alumni Awards Ceremony in Tex Turner Arena on Saturday, Oct. 9. The ceremony also included the presentation of the Alumnus of the Year, Volunteer of the Year and Young Alumnus of the Year awards and recognition for the Class of 2020 Halls of Fame inductees.
Lincoln Memorial University is a values-based learning community dedicated to providing educational experiences in the liberal arts and professional studies. The main campus is in Harrogate, Tennessee. For more information about the undergraduate and graduate programs available at LMU, contact the Office of Admissions at 423-869-6280 or email at [email protected].