Dorothy Allen Named PA of the Year at TAPA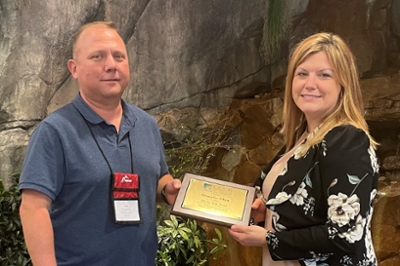 Lincoln Memorial University Assistant Professor of Didactic Education Dorothy Allen, MPAS, PA-C, was named Physician Assistant of the Year 2021 by the Tennessee Academy of Physician Assistants (TAPA) and received her award Oct. 4 at the conference in Gatlinburg, Tennessee.
Allen has represented PAs in the Knoxville region for three years on the TAPA Board of Directors,
"Being elected to this position and organizing regional meetings, as well as PA networking opportunities, I have had the pleasure of connecting with so many other practicing Pas," Allen said. "These connections allowed me to bring our regional voice and concerns to the state level."
Previously, Allen held an At-Large Board position for TAPA.  Since 2016, she has been the Government Action Committee chair and has represented Tennessee on the national level two consecutive years at the Legislative and Advocacy Summit held in Washington, D.C.  There she lobbied for advancing PA practice rights, and organized and facilitated student lobbying efforts and activities as the Student Affairs Committee Chair for the PA student representatives across the state.
"This position along with my volunteer efforts as a TN Achieves mentor and previous Free Clinic of America and Under the Bridge provider volunteer, have helped me give back to the community and make a difference in the lives of others," Allen said.
Allen is a 2008 graduate of Eastern Virginia Medical School with a master's degree in physician assistant studies. She has been practicing in Knoxville for almost 13 years. She is also a Tennessee Scholars alumna of the University of Tennessee where she graduated in 2004 with a Bachelor of Science in Education. Allen also holds an Associate of Science degree from Walters State Community College where she was the recipient of the Most Outstanding Student award in 2001. 
"Professor Allen's dedication to the profession is admirable," said Mike Stephens, dean of the LMU School of Medical Sciences. "This award is well deserved, and we are particularly lucky to have her on staff here at LMU."
LMU's PA program was established in 2009 on the main campus in Harrogate, Tennessee, and is one of the largest PA programs in the United States. In 2016, LMU launched a unique postgraduate training program for PAs with the Doctor of Medical Science (DMS) program, and in 2020 the University opened its second PA program with an expanded surgical sciences curriculum at LMU-Knoxville. For more information about the LMU-SMS visit www.LMUnet.edu/SMS.