Rebecca Akers Inducted into LMU's Professional Hall of Fame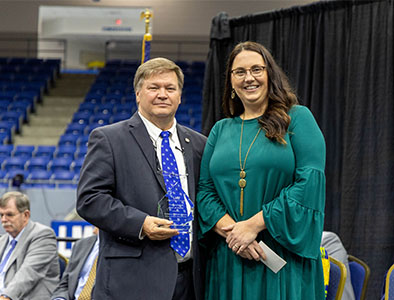 Lincoln Memorial University (LMU) inducted the Class of 2021 into its Educators', Literary and Professional Halls of Fame during Homecoming celebrations earlier this month. Rebecca Akers, '03, '12 and '16, of Middlesboro, Kentucky, was one of four inducted into the Professional Hall of Fame.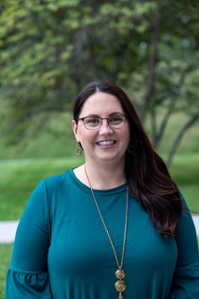 A lifetime learner, Akers has earned three degrees from LMU including a Bachelor of Science in psychology, an Associate of Science in Nursing (ASN) and a Master of Science in Nursing (MSN) with a concentration in family nurse practitioner. Additionally, she holds a Master of Science in clinical psychology from Eastern Kentucky University and a Bachelor of Science in Nursing (BSN) from the University of Kentucky.
Akers began her career as a mental health and substance abuse counselor at North Key Community Care in Covington, Kentucky, in 2005. She served as an academic advisor, tutoring center coordinator and adjunct faculty at LMU from 2008-2012. At that time, she decided to change careers to become a nurse.
Akers currently practices as an FNP at Appalachian Regional Healthcare, providing obstetrical and gynecological care at the Women's and Family Health Clinic in Middlesboro. Akers uses her expertise in nursing and psychology to also offer treatment to pregnant women with opioid use disorder.
Akers is involved with an ongoing research project, The Path Home Trial. This study focuses on pregnant women with opioid use disorder. She utilizes her clinical experience and knowledge to help many underserved individuals.
She is currently enrolled in the LMU-Caylor School of Nursing Doctor of Nursing Practice program working toward a terminal degree in nursing with a focus on adaptive leadership and practice. She is a member of the LMU-CSON Advisory Council and serves as an adjunct preceptor for LMU's MSN program and a clinical supervisor for the BSN program.
To be considered for induction into the Halls of Fame, the nominee must be an alum of LMU or an employee with at least 10 years of service. They must have been active in their area of expertise for a minimum of 10 years and made contributions or significant achievements in their field.
Akers was honored during LMU's annual Homecoming celebration at the Educators', Literary and Professional Halls of Fame Induction and Alumni Awards Ceremony in Tex Turner Arena on Saturday, Oct. 9. The ceremony also included the presentation of the Alumnus of the Year, Volunteer of the Year and Young Alumnus of the Year awards and recognition for the Class of 2020 Halls of Fame inductees.
Lincoln Memorial University is a values-based learning community dedicated to providing educational experiences in the liberal arts and professional studies. The main campus is in Harrogate, Tennessee. For more information about the undergraduate and graduate programs available at LMU, contact the Office of Admissions at 423-869-6280 or email at [email protected].