Roger Adams Inducted into LMU's Professional Hall of Fame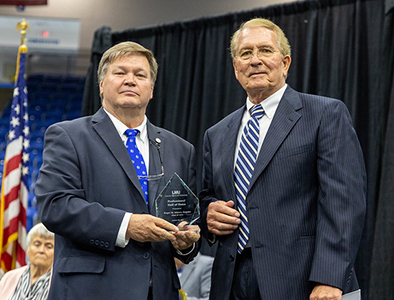 Lincoln Memorial University (LMU) inducted the Class of 2021 into its Educators', Literary and Professional Halls of Fame during Homecoming celebrations earlier this month. Roger Adams, '72, of Lee County, Virginia, was one of four inducted into the Professional Hall of Fame.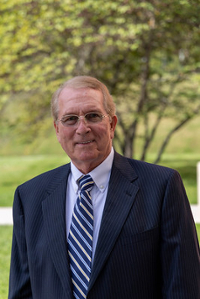 A successful lawyer with over 35 years of experience, Adams has been practicing law in Lee County since 1985. He is a member of the Virginia Bar Association and has served as president of the Lee County Bar Association. He continues his practice in Jonesville, Virginia, where he assists clients daily.
Adams graduated from LMU with a bachelor's degree in business administration and economics in 1972. He was a member of the baseball team and participated in the work-study program. He passed the insurance exam in 1971 and worked part-time in the field.
Following graduation, Adams served as director of a community action program, district director of Boy Scouts of America, director of Head Start in Lee County, manager in a coal mining business and had a successful real estate business.
In 1979, Adams became interested in studying law. Rather than attend law school, Adams studied under attorney Thomas Rasnic for three years and sat for the Virginia State Bar Exam. He passed the Bar Exam and began practicing law.
To be considered for induction into the Halls of Fame, the nominee must be an alum of LMU or an employee with at least 10 years of service. They must have been active in their area of expertise for a minimum of 10 years and made contributions or significant achievements in their field.
Adams was honored during LMU's annual Homecoming celebration at the Educators', Literary and Professional Halls of Fame Induction and Alumni Awards Ceremony in Tex Turner Arena on Saturday, Oct. 9. The ceremony also included the presentation of the Alumnus of the Year, Volunteer of the Year and Young Alumnus of the Year awards and recognition for the Class of 2020 Halls of Fame inductees.
Lincoln Memorial University is a values-based learning community dedicated to providing educational experiences in the liberal arts and professional studies. The main campus is in Harrogate, Tennessee. For more information about the undergraduate and graduate programs available at LMU, contact the Office of Admissions at 423-869-6280 or email at [email protected].