Professor Ayesh Inducted as 2021 Knoxville Bar Foundation Fellow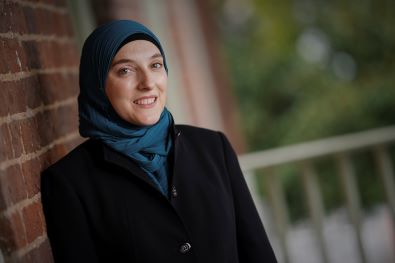 The Knoxville Bar Foundation (KBF) announced Lincoln Memorial University Duncan School of Law (LMU Law) Director of Experiential Learning and Assistant Professor of Law Maha M. Ayesh has been named one of twelve Knoxville Bar Foundation fellows for 2021.
The KBF inducts a new Fellows Class each year. The Fellows represent quality practitioners in the Knoxville area who are distinguished in the practice of law and service. Selection as a KBF Fellow is an honor reserved for less than one percent of the local bar association. Prof. Ayesh joins her LMU Law colleagues Vice President and Dean Matt Lyon and Professor of Law Akram Faizer, who previously have been inducted as KBF Fellows.
"All of us at LMU Law congratulate Prof. Ayesh on this well-deserved honor," Dean Lyon said. "As a practitioner for many years, she made a positive impact on the Knoxville legal community. Now, as an educator, she is a model of professionalism for our students as they prepare to begin their legal careers." 
Ayesh joined LMU Law in 2020 with over a decade of private practice experience focusing on employment and civil rights litigation, representing plaintiffs for Jennifer Morton Law. Ayesh took a brief sabbatical from her practice when she was awarded Fulbright Fellowship in 2011, through which she worked and researched in the field of human trafficking and the rights of migrant domestic workers in Amman, Jordan. Prior to that, she served as a judicial law clerk for the Honorable Joseph M. Tipton of the Tennessee Court of Criminal Appeals. She served on the KBA Board of Governors in 2018. 
 "I am honored to be recognized by my peers in the local bar," Ayesh remarked. "I am especially honored to highlight and support the mission of the Knoxville Bar Foundation, a mission which reflects values that have been important to me as a lawyer and now, as an educator."
The Knoxville Bar Foundation was established in 1992 to improve the administration of justice, to enhance the public's understanding of and confidence in the legal system, and to serve the legal profession. Each year, the KBF awards grants for local law-related projects and programs. In 2021, LMU Law received a KBF grant to assist it in establishing a more formal program to coordinate pro bono efforts among its students. As part of its mission to educate and serve those from underserved communities, LMU Law requires all of its students to complete 30 hours of community service before graduation, at least ten of which must involve the rendering of meaningful law-related service to persons of limited means or to organizations serving such persons.
The Lincoln Memorial University Duncan School of Law is located in Knoxville's Historic Old City Hall Building. LMU Law is an integral part of LMU's values-based learning community and is dedicated to preparing the next generation of lawyers to provide sound legal service in the often underserved region of Appalachia and beyond. For more information about LMU Law, call 865.545.5303 or visit us online at Law.LMUnet.edu.