LMU Marketing and PR Department Wins Nine TCPRA Communication Awards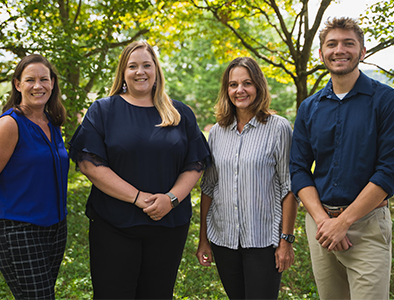 The Lincoln Memorial University (LMU) Office of Marketing and Public Relations staff was honored with nine Tennessee College Public Relations Association (TCPRA) 2021 Communications Awards.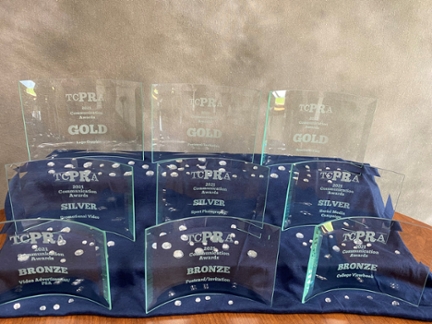 Recognized among 262 entries from 18 Tennessee institutions of higher education, LMU staff earned three gold, three silver and three bronze awards. The annual competition is usually held in conjunction with the organization's annual conference. For the second year in a row, TCPRA canceled the conference and held the awards program virtually.
"Our entire team looks forward to attending the TCPRA conference and entering the Communications Awards competition every year. It is a great opportunity to see and hear about what is happening on other campuses across the state," said Kate Reagan, senior director of marketing and public relations. "It is my honor to tell LMU stories and lead our team. I know how hard every member of this team works to share LMU with the world and it is gratifying to see that hard work recognized among our peers."
Judged by communications professionals, the competition includes 34 categories covering advertising, public relations/media relations, writing, publication, electronic and digital media, and overall promotional campaigns. LMU's work was judged among a strong field of competitors including The University of Tennessee-Knoxville, Middle Tennessee State University, Belmont University, University of Memphis, Tennessee Board of Regents, Motlow State, Maryville College, Tennessee Tech and others.
The work of Emily McGee, formerly the director of publications who recently transitioned into the director of marketing and public relations for Knoxville profession programs, was recognized with the gold for Brochure, Logo Graphic and Postcard/Invitation and Bronze for Postcard/Invitation and Viewbook. Director of Social Media and Community Engagement Bryce Boser earned silver recognition in the Sport Photography category. The entire team contributed to three other awards including silver for Promotional Video and Social Media Campaign and bronze for Video Advertisement/PSA.
Reporting to Vice President for University Advancement Cynthia Whitt, the Office of Marketing and Public Relations includes Reagan, Nikki Lockhart, director of marketing and public relations for health programs, McGee, Boser and Jordan Elliot, director of new media. The department is currently looking to fill two open positions.
Formed in 1975, the TCPRA is an alliance of communicators who represent many of Tennessee's public and private colleges and universities, two-year technical schools, technology centers and community colleges and work to define higher education in the state.
Lincoln Memorial University is a values-based learning community dedicated to providing educational experiences in the liberal arts and professional studies. The main campus is located in Harrogate, Tennessee. For more information about the undergraduate and graduate programs available at LMU, contact the Office of Admissions at 423-869-6280 or email at [email protected].