LMU Law Student and Alumna Recognized with Phi Alpha Delta Awards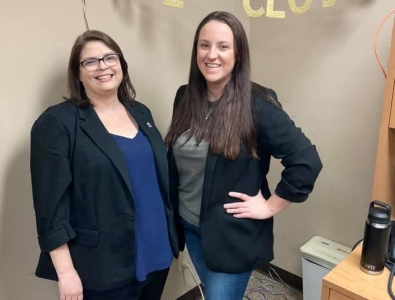 About this time two years ago, then first-year Lincoln Memorial University Duncan School of Law (LMU Law) student H. Nicole Human was at a crossroads, unsure of how to succeed in law school.                                               
"I had received my midterm grades back and was struggling," said Human.
Human took advantage of LMU Law's Dean's Fellows Program, which is designed to assist first-year law students with time management, organization, study strategies, and exam preparation. The program is part of the school's Academic Success and Bar Passage program and often leads not only to improved grades but also to friendships. LMU Law's Academic Success faculty select a group of upper-level students to mentor new law students through workshops, office hours, and one-on-one tutoring sessions focused on core first-year subjects.
The Dean's Fellows program introduced Human to then second-year law student Aubrey Maples, who helped Human get back on track in her first year.
"I went to Aubrey's office hours as a Dean's Fellow and then continued seeing her weekly to work on my grades and future success," Human said.
With Maples' mentorship, Human saw her grades improve in every course. The pair continued to study together and eventually joined LMU Law's Robert Watson, Jr. Chapter of Phi Alpha Delta. A national, preeminent law fraternity, Phi Alpha Delta is dedicated to service: service to the student, the school, the profession, and the community.
What started as mentorship grew into a true friendship. When Maples graduated in May of 2020 but could not participate in the in-person commencement exercises, she hosted a virtual ceremony. Human worked with LMU Law Vice President and Dean Matt Lyon to present Maples with the Lincoln Lawyer Award for Service as it was being announced during the ceremony.
"Both Aubrey and Nicole exemplify the pillars of values, education, and service on which Lincoln Memorial University and LMU Law are built," said Dean Lyon. "I can think of countless examples where these two women have reached out to help other students. Aubrey and Nicole will leave our law school better than they found it, and they both will be unyielding advocates for justice."
Now even as Maples has moved on from law school, she and Human continue to serve the profession and are active in Phi Alpha Delta. Phi Alpha Delta Chapters and Officers are recognized annually for their outstanding fraternity achievements and performance and for the impact they make locally and nationally. Both Maples and Human were recognized with 2021 Phi Alpha Delta Awards. Maples received the Alex Hotchkiss Outstanding Law School Chapter Justice Award, and Human received the Paul Meier Outstanding Vice Justice Award.
LMU Law's Watson, Jr. chapter remains active, competing in the National Phi Alpha Delta Mock Trial Virtual Competition, where the chapter's team placed sixth in 2020-2021; raising almost $1,000 in t-shirt sales; and networking with local attorneys. LMU Law alumnus Joshua Hughes '18 was recognized by Phi Alpha Delta for his work as Marshal of the Knoxville Alumni Chapter.
For Human, things have come full circle as she has followed in Maples' footsteps and now serves as a Senior Dean's Fellow, helping new law students adjust to the rigorous expectations of LMU Law's first-year curriculum.
The Lincoln Memorial University Duncan School of Law is located in Knoxville's Historic Old City Hall Building. LMU Law is an integral part of LMU's values-based learning community and is dedicated to preparing the next generation of lawyers to provide sound legal service in the often underserved region of Appalachia and beyond. For more information about LMU Law, call 865.545.5303 or visit us online at Law.LMUnet.edu.