Mathews to Serve on Historically Black Colleges and Universities (HBCU) Pre-Law Summit and Law Expo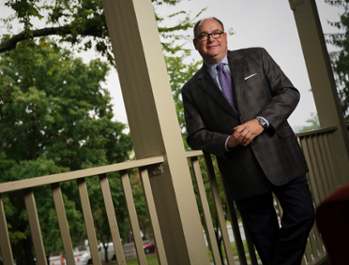 The Historically Black Colleges and Universities (HBCU) Pre-Law Summit and Law Expo announced Lincoln Memorial University Duncan School of Law (LMU Law) Associate Dean for Enrollment Services Randy Mathews will be among six other admissions professionals to serve on its pre-admissions panel on Saturday, September 18, 2021. 
The event is the Eighth Annual National HBCU Summit and Law Expo and will be held virtually from September 16 through September 19. It will include networking opportunities, access to workshops, panel discussions, pre-admissions preparation, and masterclasses. Mathews will join admissions professionals from Harvard Law School, Michigan State University College of Law, U.C. Berkeley School of Law and others to give aspiring law students an inside look at what to expect before embarking on the application process. 
"I am honored to share my knowledge and experience with the outstanding leaders attending the HBCU Pre-Law Summit. I believe LMU Law's commitment of preparing graduates for practice in underserved and often marginalized communities aligns well with the goals of many of the attendees who want to serve others through the legal profession," Mathews said.   
Mathews has extensive experience with preparing law students to reach their greatest potentials. Before joining LMU Law, Mathews worked with BARBRI, the nation's largest law school and bar review services provider, for nearly 20 years-- during which time he helped tens of thousands of law students prepare for their law school exams and bar exams. 
Matthews earned a Juris Doctor from Samford University Cumberland School of Law. He also holds a Master of Business Administration (MBA) from the University of Alabama at Birmingham and a Bachelor of Science in political science from Spring Hill College in Mobile, Alabama.
The Lincoln Memorial University Duncan School of Law is located in Knoxville's Historic Old City Hall Building. LMU Law is an integral part of LMU's values-based learning community and is dedicated to preparing the next generation of lawyers to provide sound legal service in the often underserved region of Appalachia and beyond. For more information about LMU Law, call 865.545.5303 or visit us online at Law.LMUnet.edu.