Blaze Bowers Named Assistant Vice President at LMU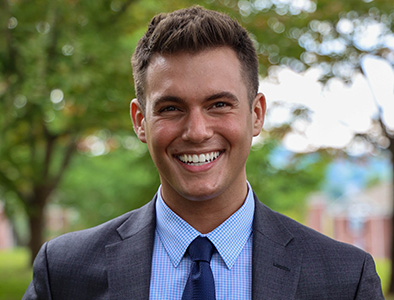 Lincoln Memorial University (LMU) Vice President for Academic Affairs W. Mark Tew, ThD, has appointed Blaze Bowers, JD, as Assistant Vice President for Academic and Student Support Services.
In this role, Bowers will provide leadership to the services offered through the Office of Institutional Compliance, Student Activities and Engagement, Dean of Students, Academic Support Services, Student Support Services and LMU's Office of Inclusion, Diversity and Engagement. Additionally, he will oversee the First Year Experience program, Mental Health Counseling and Career Services. Blaze will have reportability to both Tew and Executive Vice President for Administration Jody Goins.
"I am looking forward to acclimating Blaze Bowers to higher education," said Tew. "As an extension of the academic affairs office, his areas of student support are vital to the accomplishment of student success."
Many of the areas that Bowers will lead relate closely to the transition from enrollment to matriculation and the overall success of students after matriculation. "Dynamic leadership in these student facing areas is so important," Goins said. "I look forward to working with Blaze Bowers to ensure our students receive tremendous support throughout their LMU experience and beyond. I am excited to see what innovations he will bring."
A native of Florida, Bowers is a graduate of Grace College and Seminary in Winona Lake, Indiana, with a degree in secondary education and history and licensure in secondary social studies education. He also holds a Juris Doctor from Stetson University College of Law in Florida.
Bowers previously served as a teaching and research fellow for the Stetson University College of Law Center for Excellence in Higher Education Law and Policy, which has produced  the Annual National Conference on Law and Higher Education for over 40 years. Each year the conference draws attorneys, student affairs professionals, and a host of other higher education professionals from across the nation to hear from field leaders about the latest legal developments in higher education, best practices in the areas of Title IX, employment, ADA, compliance, and much more.
"It is a tremendous honor to join the LMU community. I was drawn to LMU by the infectious strength and spirit of her leaders and students," Bowers said. "I will devote myself to empowering the university community to further its mission of service to humanity. I am proud to be a Railsplitter and work with so many impactful student programs."
Lincoln Memorial University is a values-based learning community dedicated to providing educational experiences in the liberal arts and professional studies.  The main campus is located in Harrogate, Tennessee. For more information about the undergraduate and graduate programs available at LMU, contact the Office of Admissions at 423-869-6280 or e-mail at [email protected].