LMU Carter and Moyers School of Education Grad Inducted into Greater Knoxville Sports Hall of Fame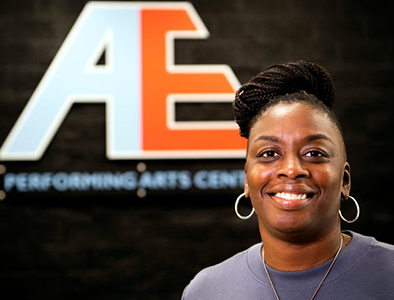 On a star-studded night in the Knoxville Convention Center, Heather Sumpter Blakemore stood before a room of 1,200 as "Voice of the Vols" Bob Kesling recited her athletic and coaching accomplishments and formally inducted her into the Greater Knoxville Sports Hall of Fame.
Blakemore was a standout track athlete even before she was recruited across the country to run for the University of Tennessee Lady Volunteers. A native of California, she ran her first big-time event at the age of 11 at the Jesse Owens Games and later represented the Pasadena Running Roses Track and Field Club at the Junior Olympics. Next came the letters from college coaches.
Blakemore wanted to run in the Southeastern Conference, so her high school coach reached out on her behalf to the University of Tennessee Lady Volunteer track coaches. As a Lady Vol, Blackmore earned All-American honors in 1996 and 1997. She was 100-meter champion at the prestigious Penn Relays in 2000. Graduating with a degree in sociology, Blakemore attempted a pro career after graduating but a nagging back injury ended the endeavor and the track star decided to continue her education.
She enrolled at Lincoln Memorial University (LMU), earning a Master of Education (MEd) in Counseling and Guidance in 2004. Blakemore started her career in education at Knox County's Northwest Middle School. In 2005, she joined the counseling staff at Austin East Magnet High School in Knoxville and began to coach the school's track and field team.
Blakemore has been a high school counselor and head track and field coach at Austin-East for more than 16 years. She has coach 21 individual TSSAA state champions, including one of her daughters. In 2007, she won her first girls team state championship and runner-up for the boys, garnering her PrepXtra coach of the year honors. In 2013, she led the girls to a state runner-up finish.
Currently working with ninth graders, she's been a counselor for every grade level. She says her years of coaching have prepared her for guiding students through their high school journey.
Blakemore was joined in the Greater Knoxville Sports Hall of Fame Class of 2021 by Duke Football Head Coach David Cutcliffe (coaching), Mike Caldwell (football), Mickey Dearstone (broadcasting), Donnie Graham (track and field officiating), Chris Groer (tennis), Lee Guetterman (baseball), Carley Pearson (parathlete), Charlie Petrone (strength and conditioning) and Jay Wise (golf).
Two-time Super Bowl-Winning Quarterback, Five-time NFL MVP and Pro Football Hall of Famer Peyton Manning was the program's featured speaker. Cutcliffe delivered a response on behalf of the incoming class.
For over 40 years, the Greater Knoxville Sports Hall of Fame has celebrated sports. Each year, 10 local individuals are inducted into the Hall of Fame for their achievements in athletics, media, coaching, sports administration, and officiating. The ceremony also honors Knoxville's Most Outstanding Male and Female High School Athletes of the Year, the Chad Pennington Professional Athlete of the Year, the Pat Summitt Ignite Greatness Award and other special honors. Each year, proceeds from the ceremony support Boys and Girls Clubs of the Tennessee Valley.
Lincoln Memorial University is a values-based learning community dedicated to providing educational experiences in the liberal arts and professional studies. The main campus is located in Harrogate, Tennessee. For more information about the undergraduate and graduate programs available at LMU, contact the Office of Admissions at 423-869-6280 or email at [email protected].