U.S. Department of Veterans Affairs Appoints Christopher J. Loyke, DO, to National Academic Affiliations Council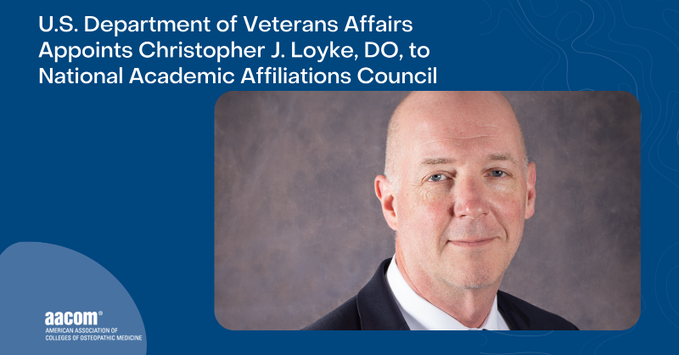 Secretary of the U.S. Department of Veterans Affairs (VA) Denis Richard McDonough appointed American Association of Colleges of Osteopathic Medicine (AACOM) nominee Christopher J. Loyke, DO, dean and chief academic officer at the Lincoln Memorial University – DeBusk College of Osteopathic Medicine (LMU-DCOM), to serve on the VA National Academic Affiliations Council (NAAC). The VA NAAC provides a forum for joint planning and coordination between the VA and the nation's health professions schools and universities.
"Dr. Loyke's military experience, academic leadership and celebrated medical career will greatly enhance the vital work being done by the VA NAAC to support the partnership between the VA and health professions education institutions," says AACOM President and CEO Robert A. Cain, DO. "AACOM is proud that osteopathic principles and practice will continue to be represented on this critical advisory council."
Loyke currently serves as a Lieutenant Colonel in the United States Army Reserve Medical Corps. He has deployed to multiple environments both foreign and domestic to provide care to soldiers as well as local populations. His honors and awards include LMU-DCOM's Ray Stowers Award and Ohio University Heritage College of Osteopathic Medicine's outstanding alumnus and outstanding family preceptor awards. Loyke was named one of Cleveland's "Best Doctors" as ranked by his peers for five consecutive years, and has also received the Army Achievement Medal, Military Outstanding Volunteer Service Medal and Army Commendation Medal.
"I am honored to have been selected to serve on this important advisory council," says Loyke. "I look forward to working with the VA and my NAAC colleagues to strengthen the partnership between health professions schools and the VA and bringing my experience as an osteopathic physician, medical educator and member of the military's medical corps to the role."
AACOM nominee Thomas A. Cavalieri, DO, dean and endowed chair for primary care research and professor of medicine at the Rowan University School of Osteopathic Medicine, and Stephen C. Shannon, DO, MPH, past AACOM president and CEO, previously served on the VA NAAC. Loyke's term begins on October 1, 2021.
Lincoln Memorial University (LMU) is a values-based learning community dedicated to providing educational experiences in the liberal arts and professional studies. The DeBusk College of Osteopathic Medicine is located on the campus of Lincoln Memorial University in Harrogate, Tennessee, with an additional location at LMU-Knoxville. LMU-DCOM is an integral part of LMU's values-based learning community and is dedicated to preparing the next generation of osteopathic physicians to provide health care in the often-underserved region of Appalachia and beyond. For more information about LMU-DCOM, call 1.800.325.0900, ext. 7082, email [email protected], or visit us online at http://med.LMUnet.edu.
About AACOM
The American Association of Colleges of Osteopathic Medicine (AACOM) leads and advocates for the full continuum of osteopathic medical education to improve the health of the public. Founded in 1898 to support and assist the nation's osteopathic medical schools, AACOM represents all 37 colleges of osteopathic medicine—educating nearly 34,000 future physicians, 25 percent of all U.S. medical students—at 58 teaching locations in 33 U.S. states, as well as osteopathic graduate medical education professionals and trainees at U.S. medical centers, hospitals, clinics and health systems.