LMU Law Welcomes 127 First-Year Law Students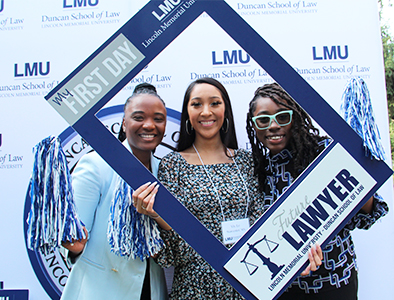 The Lincoln Memorial University Duncan School of Law (LMU Law) welcomed 127 incoming law students for orientation and the first day of classes earlier this month. 
"This is the largest, strongest-credentialed, and most geographically diverse class in the history of LMU Law," Vice President and Dean Matt Lyon said. "Moreover, the vast majority of our 1Ls do still come from Appalachia or other underserved communities from around the country. We are working hard to meet our mission by training a new generation of service-oriented lawyers and community leaders."
Of the 127 new students, 54% percent are female, and 46% percent are female. Twenty-eight states are represented. A total of 64 colleges and universities are represented, including 11 Tennessee institutions and 53 outside of Tennessee. The first-year law students attended orientation activities Monday and Tuesday, August 9 and 10, before attending their first day of class on Thursday, August 12.  
The incoming class pushes LMU Law's enrollment to an all-time high of 328 total students. With the increased enrollment, and out of an abundance of caution to provide for proper social distancing during the pandemic, LMU Law has expanded its footprint in Knoxville and some second year classes are being held at the LMU Tower, which is undergoing extensive renovations to house the developing LMU-College of Dental Medicine and other LMU programs.
The Lincoln Memorial University Duncan School of Law is located in Knoxville's Historic Old City Hall Building. LMU Law is an integral part of LMU's values-based learning community and is dedicated to preparing the next generation of lawyers to provide sound legal service in the often underserved region of Appalachia and beyond. For more information about LMU Law, call 865.545.5303 or visit us online at Law.LMUnet.edu.