School of Business Hosts Executive Business Advisory Board Meeting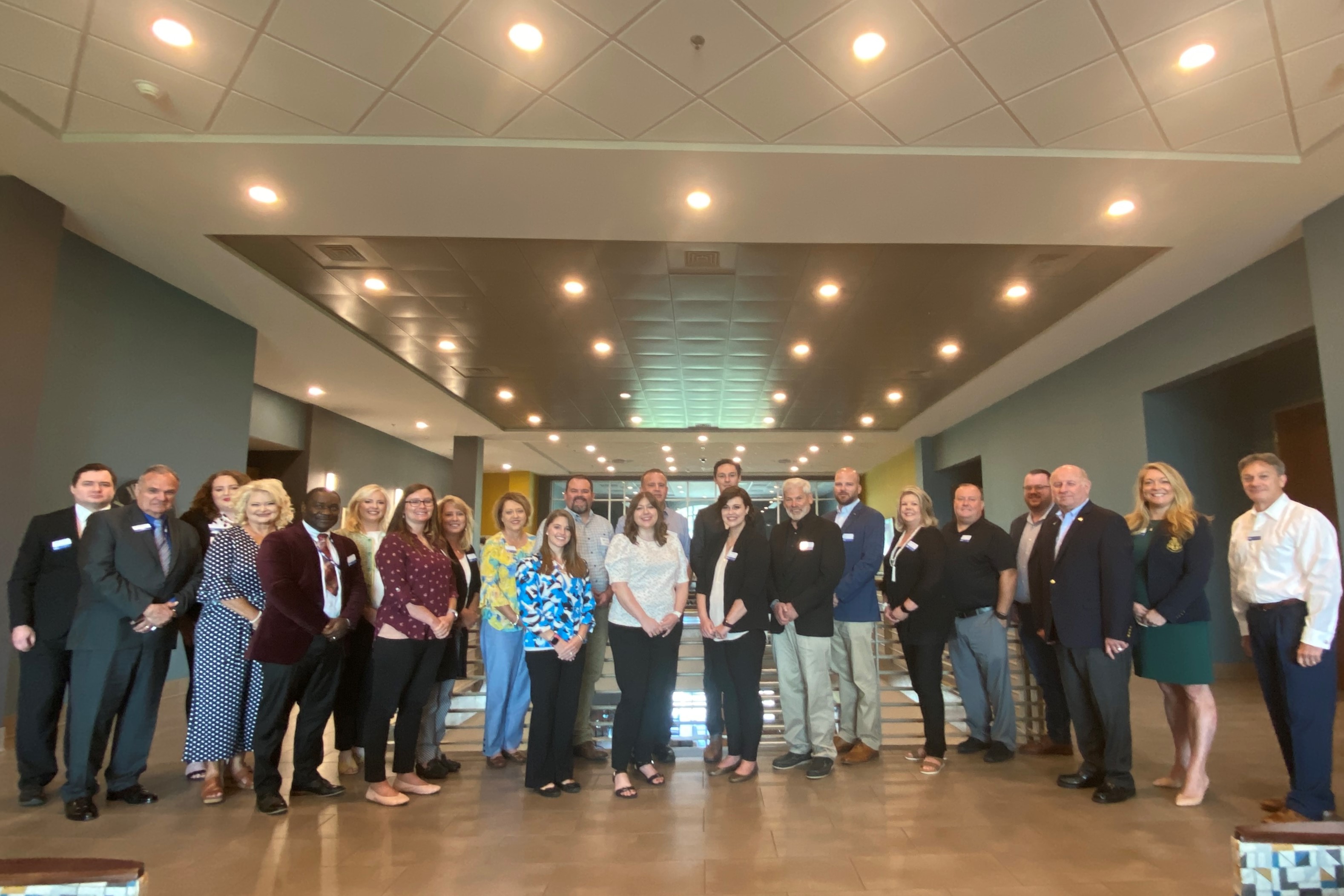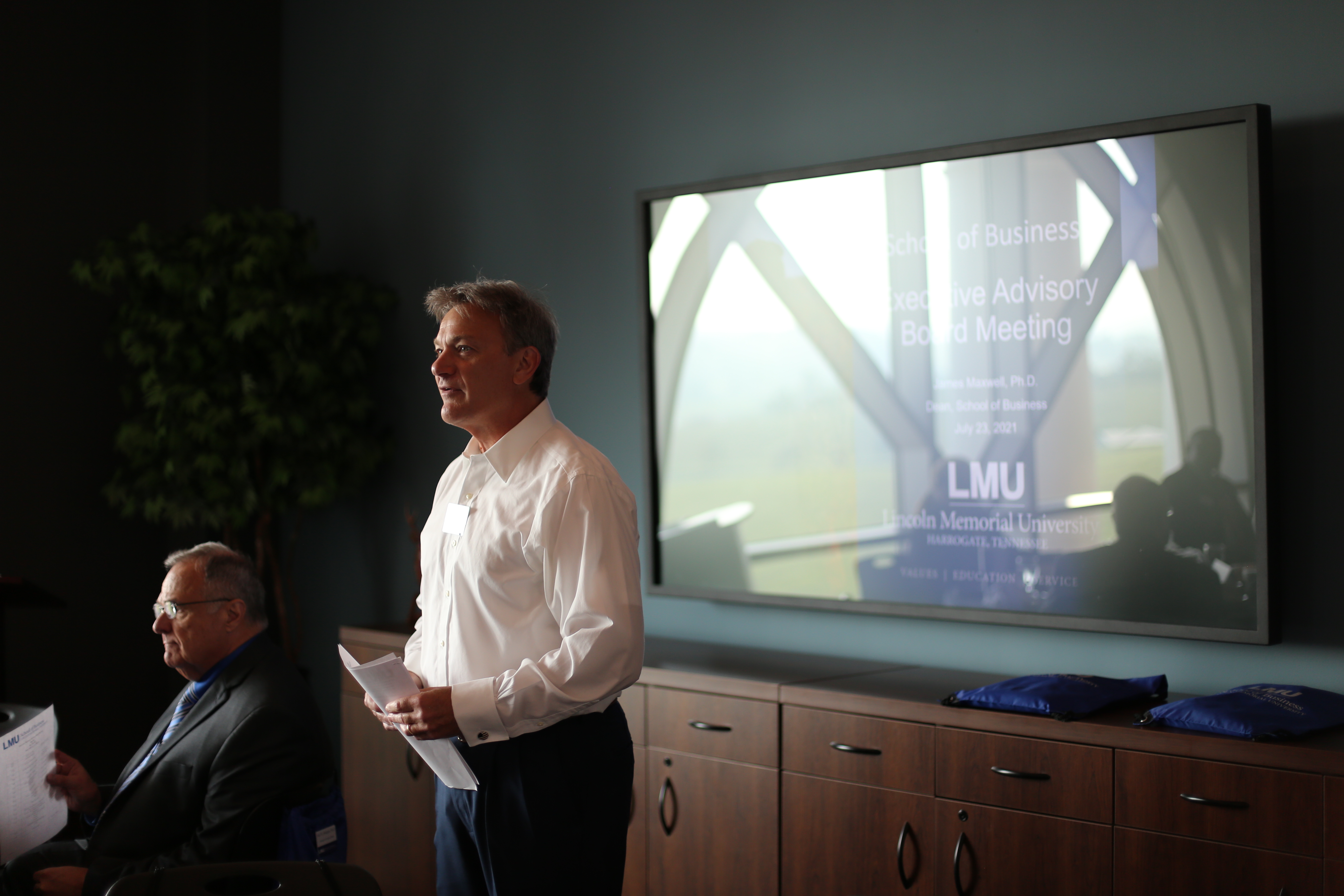 The Lincoln Memorial University (LMU) School of Business Executive Business Advisory Board met July 23 at the LMU main campus. The purpose of the board is to assist and advise the dean and school as it strives for the highest quality in business education.
"The board builds and sustains a strong foundation for collaboration and communication between the business community and the School of Business," said Dean James Maxwell. "The board has helped to improve the visibility and enhance the reputation of our school in Eastern Tennessee."
The members are 32 business, technology, and engineering leaders from the region including: Dr. Eric Abelquist, (chair), deputy director, technical supervisor at UCOR; Callie Archer, president of Junior Achievement of East Tennessee; Rob Barger, president and CEO of First Century Bank; Nan Bobbitt, CPA at Culter and Justus, P.C.; Karyn Clark, president and CEO of the Claiborne Economic Partnership; Matt Compton, insurance agent at State Farm Insurance; Alex Cook, president and CEO at Hearthside Bank; Gail Corum, CPA at Corum Bookkeeping Services, Inc.; Larry Cutlip, senior vice president of field operations at Centrus Energy Corporation; Ged Degenhart, vice president of operations at Aisin Automotive Casting Tennessee, Inc.; Dr. Ronald Dubin, founder and executive director of Kentucky Orthopedic Clinic; Terry England, president of England Furniture, Inc.; Jayme Ewing, senior supply planner at Smithfield Foods; Dustin Fowler, intermediate auditor compliance at Vanderbilt Mortgage and Finance, Inc.; Marc Ganserer, information design and business partnering unit manager at BHS Corrugate Maschinen-und Anlagen GmbH; Dr. Ben Harris, pharmacist; Dr. Patti Ketterman, president and chief administrative officer at the Claiborne Medical Center; Amy Lamber, director of marketing at CRM/JTV; Rick Lawson, plant manager at Milton and Newport Conagra Brands; Greg Maciolek, president of Integrated Management Resources, Inc. (IMR); Justin Mayes, insurance agent at State Farm; Jason McConnell, chief information officer and associate vice president of finance at LMU; Anthony Mountain, president of Homesteader, Inc.; Dr. Eddie Overholt, managing partner and funeral director at Claiborne-Overholt Funeral Home; Laura Overstreet, CES, director of Tennessee Small Business Development Center; Brian Pendleton, plant manager and England Furniture, Inc. Plant 9; Dr. Amy Ross, department head of management and professor at Walters State Community College; Thomas Segelhorst, human resources manager at AGC Glass Company North America;  Jay Shoffner, president of JRS Restaurant Corporation; Dr. Jennifer Thacker, director of the Kingsport Center for Higher Education; and Dr. Michael Weiting, senior associate dean and professor of osteopathic manipulative medicine and athletics physician at LMU.
The LMU School of Business offers the Associate of Business Administration (ABA) degree and Bachelor of Business Administration (BBA) degree with concentrations in accounting, finance, health care administration, management, management information systems, marketing, sport management, or general business. The Master of Business Administration (MBA) degree and the Doctor of Business Administration (DBA) degree can be completed in an entirely online format. 
Lincoln Memorial University is a values-based learning community dedicated to providing educational experiences in the liberal arts and professional studies. The main campus is located in Harrogate, Tennessee. For more information about the undergraduate and graduate programs available at LMU, contact the Office of Admissions at 423.869.6280 or email at [email protected]