Alumni Spotlight: Betsy Piburn, DMS, PA-C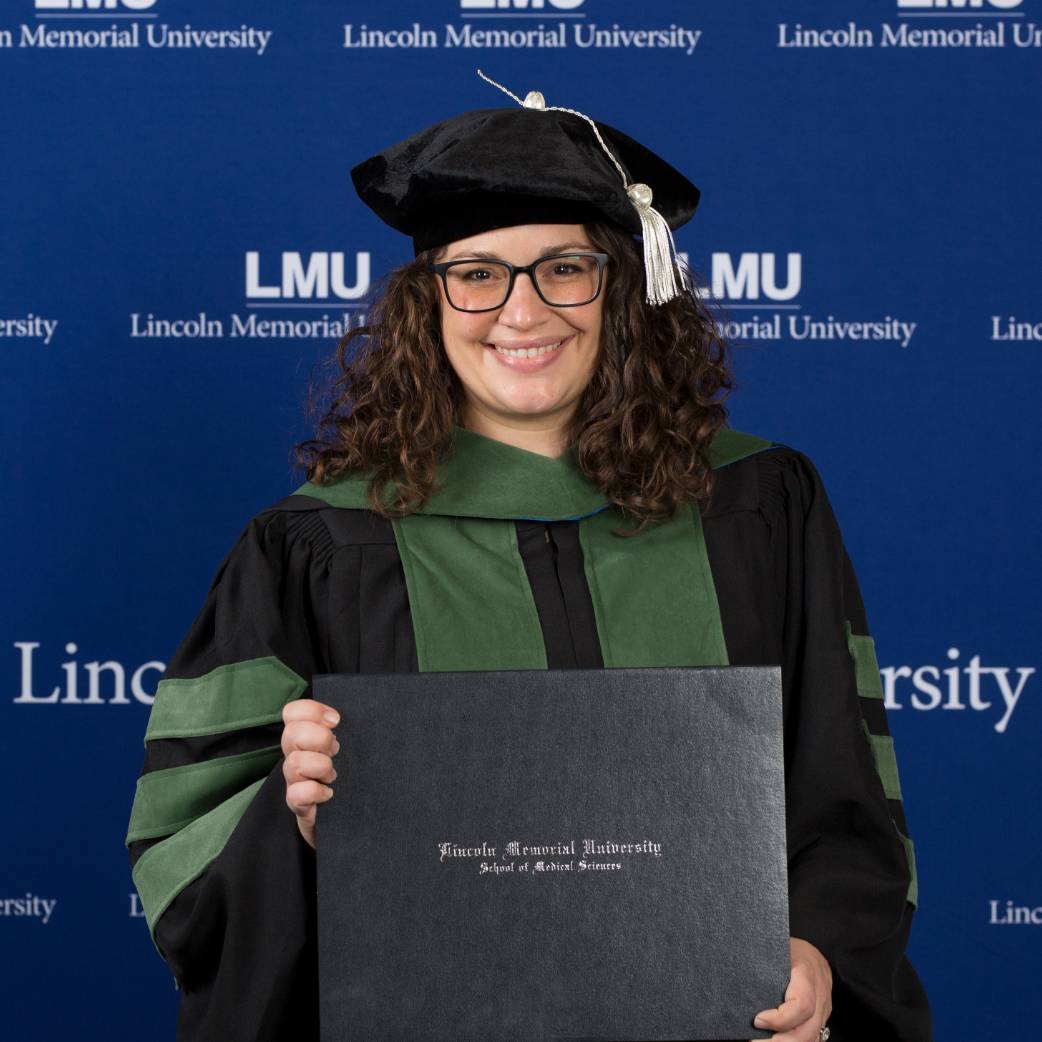 Betsy Piburn, DMS, PA-C, says earning her Doctor of Medical Science (DMS) from Lincoln-Memorial University-School of Medical Sciences (LMU-SMS) helped her confidence and patient care while working in the challenging environment of rural medicine as an emergency medicine physician assistant (PA) during COVID-19.
Piburn has spent the last seven years working as an emergency medicine PA.
"Working in a rural emergency department can be intimidating and is humbling on a daily basis," said Piburn. "We never know what is coming or what will be expected of us."
According to Piburn, COVID-19 had a significant impact on health care professionals' ability to connect with patients.
"I never thought of myself as an empathetic person but the inability to see my patient's face and have so many layers between myself and the patient really distanced us," said Piburn. "The care of COVID-positive patients has been incredibly humbling as this has been so different from other respiratory infections I have cared for in the past."
Pilburn credits LMU's program for building her confidence which helped her practice.
"There were many specific times where I was able to use new education, but overall, I think the best thing I gained was confidence. I have always felt tentative when at work, and this is often not the place for that. Having more confidence has improved my overall patient care as well as self-care," said Piburn.
Being able to pursue her doctorate while continuing clinic care made LMU's DMS program stand out.
"There were so many aha moments," said Piburn. "During each clinical section, it felt like all my patients were able to be linked to what we were learning. This helped to cement the clinical curriculum in a way that it had not been done during my previous educational paths."
There are many misconceptions about doctoral PA programs being shared, but Piburn said it comes down to doing what is best for the patient. For Piburn, that means continuing her education to pursue a terminal degree.
"The program at LMU is not a program to have us come out as a 'Dr. PA,'" said Piburn. "LMU's DMS program really improves your clinical skills, communication skills, thought processes, and overall patient care. I highly recommend this program to any PA that wants to improve their practice."
LMU's first PA program was established in 2009 on the main campus in Harrogate, Tennessee, and is one of the largest PA programs in the United States. In 2016, LMU launched a unique postgraduate training program for PAs with the Doctor of Medical Science (DMS) program. In 2020, LMU opened a second PA program focusing on advanced surgical training in Knoxville, Tennessee. For more information about the LMU-SMS PA programs, visit www.LMUnet.edu/SMS.
Lincoln Memorial University is a values-based learning community dedicated to providing educational experiences in the liberal arts and professional studies. The main campus is located in Harrogate, Tennessee. For more information about the undergraduate and graduate programs available at LMU, contact the Office of Admissions at 423.869.6280 or email at [email protected].