LMU and RAM Team Up for Cat Spay and Neuter Clinic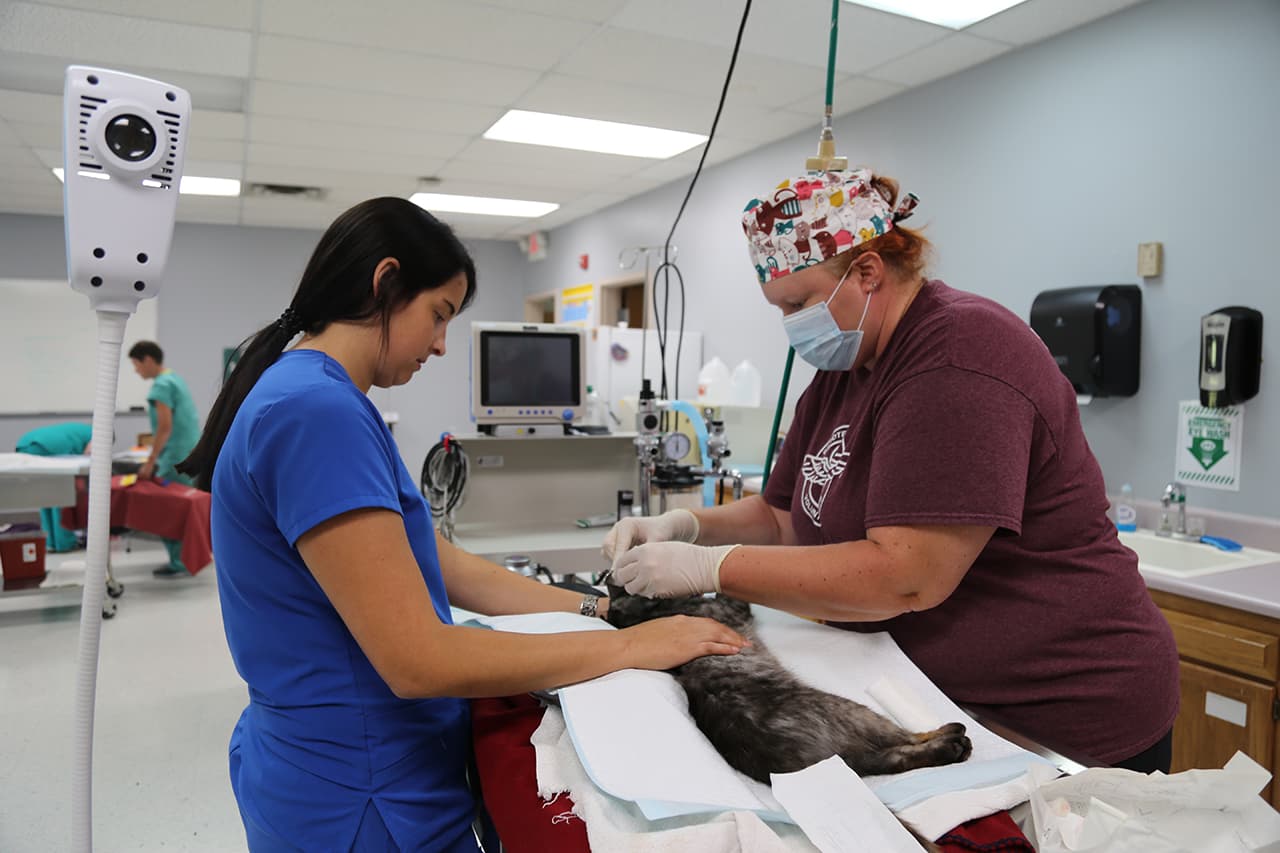 Lincoln Memorial University (LMU) and Remote Area Medical (RAM®) veterinary programs have teamed up with Friends of the Bell County Animal Shelter and Tate's TNR & Rescue to spay and neuter unowned community cats in Middlesboro, Kentucky.
LMU volunteers, including Dr. Matt Marcum, Dr. Amanda Rainey, Bethany Gabrie, Autumn Staley, and Veterinary Medical Technology students, performed surgeries and administered vaccines for 30 cats on June 27. The cats were returned to their community locations the next morning. Colonies of spayed and neutered cats can benefit their communities in several ways, including rodent control and stabilization of the free-roaming cat population. 
"The School of Allied Health Sciences was excited to join RAM and our local partners to provide veterinary care for the community cats and to help reduce the number of unowned kittens that are born each year," said Dr. Beth Thompson Dean of the LMU School of Allied Health Sciences. "We are proud to meet our service mission through veterinary events such as these, but we know there is more work to be done. We plan to do a second event in the fall to help even more. On behalf of the School and volunteers, I would like to thank Middlesboro Mayor Rick Nelson for the use of the Middlesboro Community Center for our temporary cat housing before and after the June 27 event."
Remote Area Medical – RAM® received a Rachael Ray Save Them All grant from national animal welfare organization Best Friends Animal Society for its Pilot Community Cats Collaboration program to help Bell County, Kentucky, humanely manage the area's community cats and save shelter animals' lives.

The Pilot Community Cats Collaboration sterilizes and vaccinates free-roaming, unowned cats, and then returns them to their outdoor homes to live out their natural lives without reproducing.  Sterilizing these cats will help prevent unwanted kittens and reduce undesirable behaviors, while discouraging new, unaltered cats from entering the existing colonies.  

"RAM is grateful to receive this funding from Best Friends Animal Society to collaborate with long-time partners at Lincoln Memorial University and new partners Tate's TNR & Rescue and Friends of Bell County Animal Shelter," said Amanda Weber, RAM Veterinary Clinic Manager. "We also appreciate support from Alley Cat Advocates and other local nonprofit groups without whom this work could not happen. By reducing the number of community cats in the area, this project will increase Bell County Animal Shelter's capacity to improve and save the lives of animals in their care. Many of those animals will be adopted by families who will reap the significant health and wellness benefits of pet adoption, including the unconditional love a pet can bring to their lives."

The Rachael Ray Save Them All Grants is a program, administered by Best Friends and funded by The Rachael Ray Foundation™, that provides grants to shelters for euthanasia reduction initiatives. The Rachael Ray Foundation helps animals in need and is funded by a portion of proceeds from each sale of Rachael's pet food, Nutrish®.

RAM is a major nonprofit organization that operates pop-up clinics delivering free, quality, dental, vision, medical, and veterinary services to underserved and uninsured individuals who do not have access to or cannot afford a doctor. Since RAM was founded in 1985, more than 173,000 volunteers --comprised of licensed dental, vision, medical, and veterinary professionals, as well as general support staff -- have treated more than 863,000 individuals delivering $174 million worth of free healthcare services. RAM has held clinics in locations such as Tennessee, Louisiana, Idaho, California, Colorado, Florida, Kentucky, Maryland, Minnesota, Missouri, New Mexico, Nevada, Ohio, Oklahoma, South Dakota, Texas, Virginia, West Virginia, Guyana, Haiti, and the Bahamas.

Best Friends Animal Society is a leading national animal welfare organization dedicated to ending the killing of dogs and cats in America's shelters. In addition to running lifesaving programs in partnership with more than 3,100 animal welfare groups across the country, Best Friends has lifesaving centers in New York City, Los Angeles, Atlanta and Salt Lake City, and operates the nation's largest no-kill sanctuary for companion animals. Founded in 1984, Best Friends is a pioneer in the no-kill movement and has helped reduce the number of animals killed in shelters nationwide from an estimated 17 million per year to around 625,000. That means there are still more than 1,700 dogs and cats killed every day in shelters, just because they don't have safe places to call home. Determined to bring the country to no-kill by the year 2025, Best Friends and its nationwide network of members and partners are working to Save Them All®. To check out the pet lifesaving dashboard and for more information, visit bestfriends.org.
Lincoln Memorial University is a values-based learning community dedicated to providing educational experiences in the liberal arts and professional studies. The main campus is located in Harrogate, Tennessee. For more information about the undergraduate and graduate programs available at LMU, contact the Office of Admissions at 423.869.6280 or email at [email protected]