Jocelyn Mercado Earns Spot in Rural Summer Legal Corps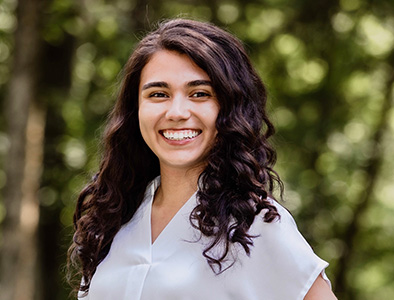 Lincoln Memorial University Duncan School of Law (LMU Law) student Jocelyn Mercado has been selected from over 450 law students nationwide to serve in the 2021 class of Rural Summer Legal Corps for Equal Justice Works.
Mercado, who earned her undergraduate degree in political science from Middle Tennessee State University, will be entering her second year at LMU Law in the fall. Mercado, of Tullahoma, Tennessee, is spending her summer supporting legal work to assist low-income, rural individuals who are facing significant financial burdens and legal challenges in maintaining housing, obtaining unemployment benefits, and preventing loss of income due to debt collection. She is working with Legal Aid Society of Middle Tennessee and the Cumberlands.
"The COVID-19 pandemic has significantly increased requests for civil legal assistance, particularly on housing and unemployment issues," said Aoife Delargy Lowe, vice president of law school engagement and advocacy at Equal Justice Works. "We are proud to have Jocelyn join the Rural Summer Legal Corps, where she will have the unique opportunity to work alongside attorneys at Legal Aid Society of Middle Tennessee and the Cumberlands to help protect the livelihood and health of low-income, rural individuals."
The Rural Summer Legal Corps is a partnership between the Legal Services Corporation (LSC) and Equal Justice Works that supports 35 dedicated law students who want to spend their summer addressing pressing legal issues facing rural communities. The student fellows have the opportunity to explore their passion for public interest while gaining valuable legal skills and experience at LSC-funded civil legal aid organizations. Following the completion of 200 hours of service in the program, participants earn a $5,000 stipend.
"No day at Legal Aid Society looks the same. It is exciting to be exposed to an array of Civil issues," Mercado said. "It is fulfilling to work with attorneys who provide the best legal services and are dedicated to protecting the livelihood, health, and safety of low-income families."
"The work that Jocelyn is doing this summer in Equal Justice Work's Rural Summer Legal Corps is directly tied to the mission of LMU Law: to prepare lawyers for careers that enable them to address the legal needs of underserved populations," said LMU Law Vice President and Dean Matt Lyon. "We are so proud that Equal Justice Works has recognized Jocelyn and given her this terrific opportunity."
Mercado realized her calling for public service through traveling on international mission trips and working on political campaigns. She experienced the positive impact of utilizing state resources firsthand, as a graduate of the Tennessee Promise program from Motlow State Community College, which gave her the foundation of her academic success. Mercado then continued her studies at MTSU as an Honors College Transfer Fellow. She received a full scholarship to publish a thesis for the University Honors College. She said this project prepared her the most for law school. In her first year of law school, she was awarded a CALI Award for the highest grade in Legal Communications II.
After graduation from MTSU, Mercado worked at the Tennessee State Capitol in Nashville tracking legislation that affected rural communities in the areas of health care and judicial process. She said when she received the opportunity to work for Legal Aid Society of Middle Tennessee and Cumberlands which is the largest nonprofit firm in Tennessee everything came into full circle. 
Founded by law students in 1986, Equal Justice Works is a nonprofit organization that brings together an extensive network of law students, lawyers, legal services organizations, and supporters to promote a lifelong commitment to public service and equal justice.
LSC is the single largest funder of civil legal aid for low-income Americans in the nation. Established in 1974, LSC operates as an independent nonprofit corporation that promotes equal access to justice and provides grants for high-quality civil legal assistance to low-income Americans. LSC distributes more than 90% of its funding to 132 independent nonprofit legal aid programs with more than 800 offices, including the Knoxville headquarters for Legal Aid of East Tennessee, which are located at LMU Law's downtown Knoxville location.
Lincoln Memorial University is a values-based learning community dedicated to providing educational experiences in the liberal arts and professional studies. The main campus is located in Harrogate, Tennessee. For more information about the undergraduate and graduate programs available at LMU, contact the Office of Admissions at 423-869-6280 or email at [email protected].