LMU Receives PetSmart Charities® Grant for Clinical Services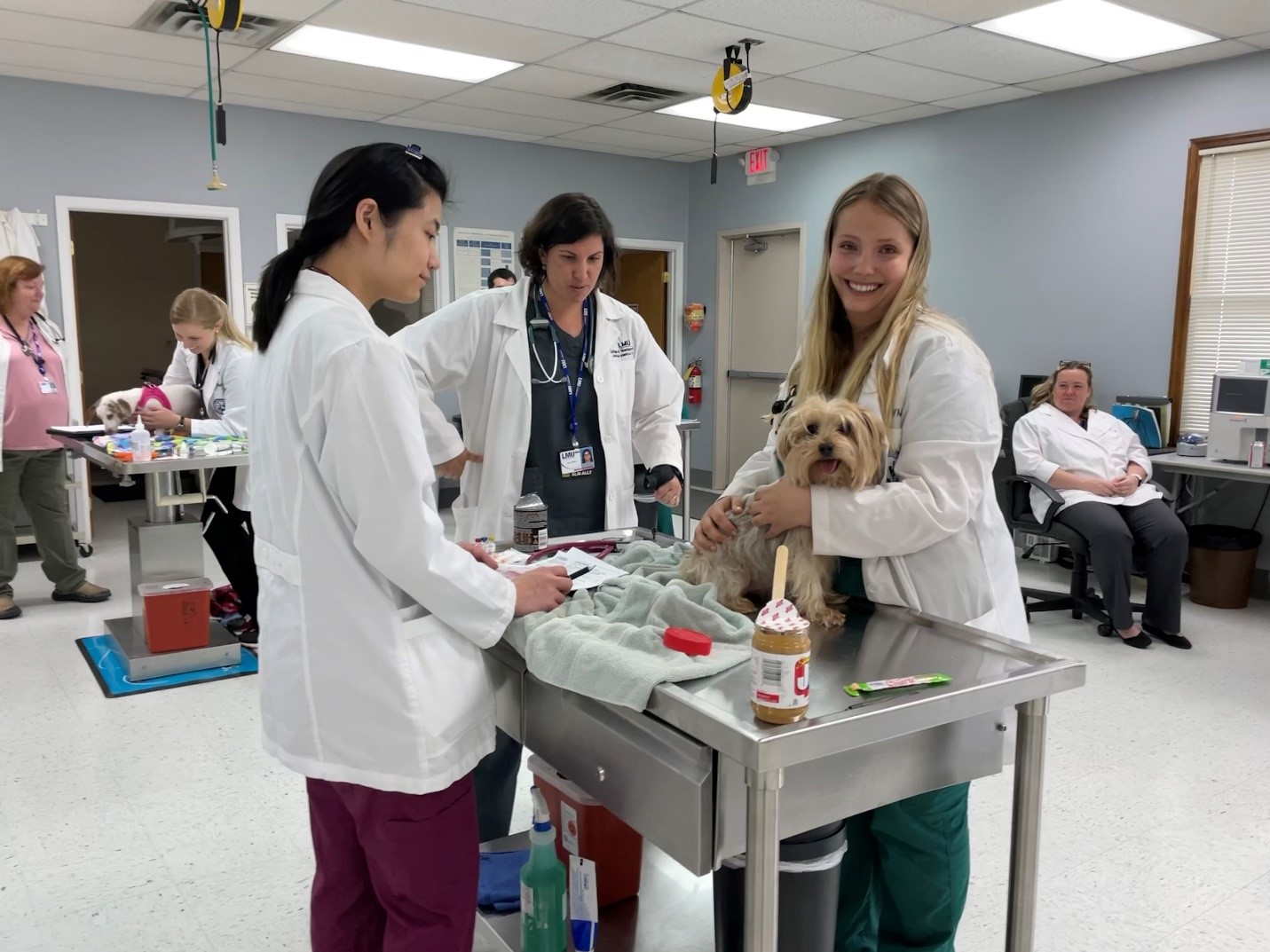 The LMU-College of Veterinary Medicine (LMU-CVM) and the LMU School of Allied Health Sciences Veterinary Health Science Program (Vet Tech) received a $71,400, two-year grant from PetSmart Charities® to serve members of the Appalachian community who would not otherwise be able to provide care to their pets.  
Vet Tech hosted the first clinic June 9, providing services to 13 dogs and cats. The pets received wellness care including vaccines, heartworm testing, and a year supply of monthly preventatives. Minor illnesses, such as ear and skin conditions, were diagnosed and treated. Boehringer Ingelheim donated vaccines for the project, and all services were provided at no cost to the pet owners.   
"It was a privilege for the School of Allied Health Sciences to host the first wellness clinic as a service to pet owners in the local community," said Dean Beth Thompson. "I am excited for future clinics that will provide novel learning experiences for veterinary and veterinary technician students and much-needed veterinary care to local pets."  
Dr. Dawn Spangler, director of Small Animal Clinical Skills and associate professor of Shelter Medicine at LMU-CVM, along with Dr. Bonnie Price, associate professor of Veterinary Science, worked together on the grant.  Spangler and Price are working in partnership with area animal shelters, local social services, and other organizations to identify qualifying pet owners in the Tri-State area. The grant will provide free wellness care through June 2022.
"The pandemic has increased the need for assistance in our communities," said Price, who teaches and researches the benefits of the human-animal bond. "Not only are pets seen as important members of the family, but pet ownership is also linked to improved physical and psychological health. This grant will allow us to preserve the bond between people and their nonhuman family members and improve the overall health of our communities." 
In addition, the grant is giving the veterinary and veterinary technician students an opportunity to learn how to work together while providing veterinary care to underserved pets.
"They learn to work as a clinical team like they will be doing after graduation," Spangler said. "It is very uncommon in veterinary education for future veterinarians and future veterinary technicians to work together during their education, and LMU is proud to offer this opportunity to students."
Clayton Deible was one of the LMU-CVM students who volunteered in the recent clinic.
"This wellness clinic was a great experience for both the students and the community," said Deible. "As a fourth-year student, getting the experience of performing exams and talking with clients is paramount to our education. This clinic not only let us become more confident in using the knowledge we gained during classes, but also allowed us to use that knowledge to help our community." 
Clinical Activities Coordinator for Veterinary Medical Technology Bethany Gabrie says the clinic was a great opportunity for students to use the skills they are learning to give back to the community, providing them with 'real-life' scenarios that they will experience in veterinary clinics in the future.
PetSmart Charities® is the leading funder of animal welfare in North America. Since 1994, they have granted over $451 million to change-making organizations that help transform the lives of pets and those who love them. Learn more at petsmartcharities.org/about-us.
Lincoln Memorial University is a values-based learning community dedicated to providing educational experiences in the liberal arts and professional studies. The main campus is located in Harrogate, Tennessee. For more information about the undergraduate and graduate programs available at LMU, contact the Office of Admissions at 423.869.6280 or email at [email protected].