Lincoln Memorial University Announces Spring 2021 Dean's List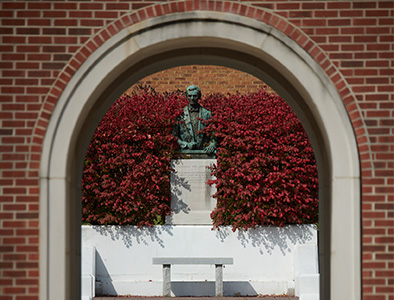 Lincoln Memorial University (LMU) has announced that the following students were placed on the Dean's List for the spring semester of 2021.  To be placed on the Dean's List, the student must be a full-time undergraduate and have a 3.5 or higher, grade-point average for the semester.
ALABAMA
BIRMINGHAM: William Tidwell
ARIZONA
CHANDLER: Annika Lagos
SCOTTSDALE: Michaela Clark
CALIFORNIA
LOS ANGELES: Itzel Ballesteros
CONNECTICUT
NEWINGTON: Matt Bradley
FLORIDA
BRADENTON: Collin Goda and Hunter Stroble
CAPE CORAL: Symantha Campos
FORT LAUDERDALE: Chandler Bell
LAND O LAKES: Marynn Every
LIVE OAK: Savannah Leneave
MIAMI: Randy Rivera
NEW PORT RICHEY: Spencer Davis
ORLANDO: Emanuely Costa
PALM CITY: Kristen Moehring
TAMPA: Liza Manouselis
GEORGIA
ALPHARETTA: Samantha Hogan
BUFORD: Emily Walter
DAHLONEGA: Victoria Mounce
ELLAVILLE: Faith Brown
LAWRENCEVILLE: Micah Sells
LOGANVILLE: Unique Earley
ROCKY FACE: Kaley Long
STATESBORO: Rodney Hennon
WINDER: Destiny Gibbs
HAWAII
Kaneohe: Chelsea Nakaoka
ILLINOIS
AUSTIN: Jaylah Mays
CHICAGO: Shania Carr
EDWARDSVILLE: Arthur Risavyi
OAK FOREST: Victoria Conely
INDIANA
GREENCASTLE: Alicia Haywood
INDIANAPOLIS: Alan Johnson
WEST LAFAYETTE: Jordan Walters
KENTUCKY
ARJAY: Genia Goodin
BARBOURVILLE: Jerilyn Payne
BAXTER: Noah Canady and Kimberly Miller
BLEDSOE: Emily Howard
CAWOOD: Casey Ledford and Dalissa Noe
COLDIRON: Madison Hall
CORBIN: Laura Everly, Zachary Hash, Kristen Kersey, Seth Kirby and Lucy Sadler
EVARTS: Marissa Powell and Austin Vanover
FLAT LICK: Hannah Blevins and Cheyenne Hamblin
GRAY: Thea Bailey
HARLAN: Makenna Doss, Madison Howard and Wilson McCarthy
HEIDRICK: Amber Philpot
ISOM: Lindsay Proffitt
LA GRANGE: Abigail Francis
LILY: Ellie Rose
LONDON: Kindra Cole, Ethan Fischer, Chelsea Lockhart and Haley Smith
LOYALL: Rhileigh Alred
MAYSVILLE: Haley White
MIDDLESBORO: Preston Akers, Bailey Baker, Zachariah Baker, Allyson Carey, Evan Collett, Jayden Fisher, Myra Gent, Sarah Hoskins, Dana Howard, William Kelley, Danny Lin, Hailee Madon, Dawson Mills, Timothy Perkins, James Rose and Melissa Wilder
MIRACLE: Allison Miller
NICHOLASVILLE: Morgan Simpson
PATHFORK: Drema Howard
PINEVILLE: Meghan Bailey, Kalee Capps, Virginia Collins, Jada Jones, Corey Mills,  Jada Phipps and Dylan Smith
PUTNEY: Elyse Turner
TOPMOST: Hannah Hall
WILLIAMSBURG: Sydney Begley, Cameron Bowen, Kelsey Connell and Felicia Lane
MARYLAND
ELKTON: Erin Depaul
MICHIGAN
NEW BOSTON: Megan Holloway
NEVADA
HENDERSON: Jazelle Lampkin and Olivia Lampkin
NEW JERSEY
TOMS RIVER: Hayley Tamaro
SICKLERVILLE: Hannah Murphy
NEW YORK
GREENVILLE: Madison Marcello
MANLIUS: Allison Myers
ROCHESTER: Abigail Sarmiento
WEBSTER: Cassidy Anschutz
NORTH CAROLINA
CHARLOTTE: Grace Mathis
CHEROKEE: Robin Reed
CLYDE: Mikayla Queen
GREENVILLE: Grace Cochran
MOORESVILLE: Lauren Martin and Ashley Schrader
WAKE FOREST: Isabella Buccellato
WEAVERVILLE: Tyler Mckinney
WINSTON SALEM: Lucas Rattigan-Coe
OHIO
ASHVILLE: Seraya Lyons
BLACKLICK: Chase Rankin
BROOKVILLE: Matthew Bridenbaugh
COLUMBUS: Justin Sharfenaker and Attia Soliman
DEFIANCE: Brianna Fortman
DUBLIN: Luke Bartemes
ENGLEWOOD: Dawson Walker
GAHANNA: Jeremiah Keene
GRAND RAPIDS: Amber Underwood
LEXINGTON: Abigail Dawson
LIBERTY TOWNSHIP: Ethan Hubbard
MIDDLETOWN: William Eiken
MORROW: Savannah Masterson
NEWARK: Zachery Robertson
VERSAILLES: Morgan Heitkamp
PENNSYLVANIA
BUTLER: Nicolas Cicco
HARRISBURG: Grace Day
HERSHEY: Luke Hedrick
MOUNTAIN TOP: Kurtis Orrson
PITTSBURGH: Shea Lynch
SOMERSET: Elizabeth Close
RHODE ISLAND
PROVIDENCE: Jada Bassette
SOUTH CAROLINA
ANDERSON: Riley Manuel
TENNESSEE
ALCOA: Tyler Boyd
ANDERSONVILLE: Samantha Campbell and James Parker
ATHENS: Jacqueline King
BEAN STATION: Mackenzie Brown
BLAINE: Leah Troutt
BLOUNTVILLE: Alexis Steffey
BLUFF CITY: Samantha Lyon, Brody Malone and Kennedy Tester
BRENTWOOD: Ryan Franklin
BRISTOL: Eli Tate and Matilda Tate
BULLS GAP: Nathan McBride
BYRDSTOWN: Jada Lee
CALHOUN: McKinley Burns
CHATTANOOGA: William Ingell
CHRISTIANA: Sarah Jones
CHUCKEY: Zane Potter
CHURCH HILL: Ashtyn Gibson, Makenzie Hagood, Alexis Moore and Ashley Landaverde
CLEVELAND: Colin Wilson
CLINTON: Johnathan Cash and Haley Hazel
COLUMBIA: Ashlyn Thomas
COOKEVILLE: Hunter Rinehart
CORRYTON: Madilyn Bailey, Hannah Hudson, Hannah Knight, Amanda Radford
CUMBERLAND GAP: Sophie Anderson, Elise Bruce, Madeleine Campbell, Jordan Collins, Cory Crigger, Tristany Grim, Seth Marcum, Natalie Monroe, Audrey Petoskey, Nicole Simmons, Conley Wilburn and Stephanie Wright
DUNLAP:  Jayla Cartwright
EAGLEVILLE: Austen Smith
ELIZABETHTON: Camille Davison
FAYETTEVILLE: Thomas Wright
FRANKLIN: Patrick Queener and Madison Rainwater
FRIENDSVILLE: Maddison Copper
GREENBRIER: Samantha West
HARROGATE: Deborah Akins, Christina Bradley, Bailey Brewer, Brea Browning, Madeleine Campbell, Katelin Chadwell, Gabrielle Chumley, Andrew Collins, Sarah Crumley, Dustin Daniels, Brady Dunn, William Giles, Hayley Gulley, Reagan Gulley, Laurel Hobbs, Brennan Murphy, Faith Pendleton, Tabitha Roy, Joseph Serrenho, Cassidy Smith, Clayton Smith and Taylor Yoakum
HEISKELL: Kelsey Giles and Kaleb Jenkins
HELENWOOD: Kelcee Griffith, Chelsey Myers, Raelan Pennington and Marchesa West
HENDERSONVILLE: Justin Sarduy, Jacob Titus and Dylan Tran
HURRICANE MILLS: Kailey Spann
JACKSBORO: Lucas Clotfelter, Jorden Goins, Lara Gunter, Lindsay Horton, Laken Miller, Kase Owens, Jared Ray, Lily Smith and Trenten Tuggle
JELLICO: Morgan Bowlin
JOHNSON CITY: Tara Corwell and Dalton Mullins
KINGSPORT: Bethany Duncan, Kassidy Miller, Kayla Rutrough, Gabriel Smith and Emily Southerland
KNOXVILLE: Kelsie Ahbe, Miranda Beeler, Caleb Berry, Haley Boles, Katherine Browning, Anastasia Cheek, Harper Cherry, Madison Criswell, Rebecca Crum, Emma Cummings, James Fowler, Dallas Griffith, Elizabeth Hays, Brandon Helton, Pablo Herrera Garcia, Alexa Hill, Russell Hubbard, Sierra Hucklebee, Chelsea Johnson, Ella Johnson, Beth Jones, Anne Katz, Alexis Kelley, Isabelle Ledgerwood, Amanda Lyles, Erin Mario, Kara McNally, Taylor Melgaard, Anna Mooneyham, Kaitlin Myers, Sydney Noe, Lydia Olson, Noah Perdue, Emily Roark, Kaitlyn Rotton, Tyriaira Spikes, Reid Tate, Katie Tuggle, Kelsie Tuggle, Emily Washam and Emma Webb
LAFOLLETTE: Julia Ayers, Bonnie Brotherton, Sarah Bruun, Jessie Bumgardner, Diona Campbell, Morgan Cooper, Alexis Foster, Matthew Herrell, Autumn Meadows, Katrina Oldham, Tyra Owens, Emily Spradlin, Samantha Stanfill and Shayla Welden
LANCING: Kristin Barnett and Keele Mathis
LENOIR CITY: Jessica Burress, Ella Morton and Amanda Franklin
LOUDON: Dina Chechovsky
LOUISVILLE: Madison Henry and Noah Painter
LUTTRELL: Kailyn Griffey and Clayton Sexton
MADISONVILLE: Kassidy Kenny and Samuel Peters
MARYVILLE: Alexia Bearden, Sabella Johnson, Kennedy Keeble and Kirby Reynolds
MAYNARDVILLE: Chloe Bowman, Gibson Calfee, Ethan Dyer, Tucker Edmondson, Brooke Foster, Alyssa Long, Zachary McCullum and Matthew Woods
MEMPHIS: Rebekah Labuda
MIDWAY: Mourghan Rose
MOORESBURG: Brent Smith
MORRISTOWN: Kaylea Braddock, Emma Collins, Hunter Eden, David Ellison, Emma Frost, Kelsi Gibson, Alicia Gonzalez, Makayla Hill, Mason Johns, McKenna Korody, Misti Lopez and Laken Phillips
MOSHEIM: Courtney Jessie
MOUNT JULIET: Jessica Meadows
NEW MARKET: Kyle Nabe, Kaley Nicely and Heather Sexton
NEW TAZEWELL: Paul Bailey, Derek Beistad, Alyssa Boldin, Brooklyn Bowen, Taylor Chittum, Reagan Cupp, Samantha Cupp, Angelina Holtsclaw, Gage Keck, Nicholas Lockhart, Jessica Maples, Kaylor Neely, Anna Palazzolo, Jacob Runions, Wynston Seal, Rhett Torbett, Summer Walker, Ashton William and Ivy Zebroski
NOLENSVILLE: Hunter Oubre
OLIVER SPRINGS: Mackenzie Danner and Bailey Steele
ONEIDA: Madison Chitwood, Kassidy King, Heavyn Lewallen and Morgan Young
OOLTEWAH: Calista Barker and Kyndall Caudle
POWELL: Mariana Diaz Lopez, Matthew Grim, Ashlyn Miller, Jordan Newton and Keana Way
ROCKWOOD: Celia Barnett and Kelsee Neely
ROGERSVILLE: Autumn Belcher, Landon Margetjak and Harper Russell
RUSSELLVILLE: Kalie Rich
RUTLEDGE: Kaden Kinser and John Lenz
SHARPS CHAPEL: Cedric Brown
SEVIERVILLE: Autumn Fraley, Christopher Fraley, Megan Oesch and Sydney Wolfenbarger
SEYMOUR: Megan Fouts, Matthew Mikels, Brandon Parrott and Hannah White
SNEEDVILLE: Kassidy Dean, Chase Jones, Tyler Mullins and Payton Neeley
SODDY DAISY: Madison Bean
SPEEDWELL: Candace Bean, Jordan Brooks, MacKinzey Cutcher, Alexis Franklin, Hannah Hatfield, Hailey Lankford, Ethan Lesser, Tabetha Treece, Elijah Wilson and Hayley Wilson
STRAWBERRY PLAINS: Stormie Ferguson
SURGOINSVILLE: Sadie Conley, Sinclair Conley
TAZEWELL: Ashton Dalton, Savannah Dunsmore, Giselle Ghabussi, Justin Haas, Madison Kelly, Casey Lamont, Kelci LeBlanc, Lindsey Lester, Makayla Liford, Ashley Long, Casey Mayes, Emily Moucha, Kierstin Moyers, Logan Neely, Sophia Nichols, Kierstyn Nunn, Lucas Payne, Mary Russell, Carly Sandefur, Rachel Teeter and Brooke Trent
TEN MILE: Victoria Henry
THORN HILL: Jeremiah Brooks, Caitlin Davidson, Seth Kerney and Kaitlyn Kincaid
UNIONVILLE: Sidney Dupree
WARTBURG: Lillijan Hunter
WASHBURN: Dillon Farmer, Ashley Milligan, Abby Pursiful and Mikayla Simmons
WHITE BLUFF: Bailey Griffith
WHITE PINE: Brittany Totherow
TEXAS
ALLEN: Avery Van Der Ziel
DALLAS: Sonnie Mathis and Finley Sims
EDINBURG: Noe Reyes
GARLAND Mikayla Kuehne
GRAND PRAIRIE: Caitlyn Lindell
NEVADA: Emma Winford
VIRGINIA
ABINGDON: Payton Walker
BRISTOL: Shelby Ray Chancellor
DUFFIELD: Tyler Starnes
EWING: Jackie Ellis, Madison Mayes, Courtney Roberts, Valoree Rouse and Jasmyne Thomas
GATE CITY: Mekayla Spivey
JONESVILLE: Nickolas Arney and Timberly Dean
MIDLOTHIAN: Lucas Chazo
NEWPORT NEWS: Nicole Landers
NICKLESVILLE: Jarvis Pennington
PENNINGTON GAP: Shelby Murphy, Angie Zhang and Maggie Zhang
ROANIKE: Sierra Landsman
ROSE HILL: Jacey Grabeel, Gracie Moles, Emily Owens, and Sydney Yeary
WEST VIRGINIA
ONA: Isabelle Litteral
PARKERSBURG: Justine Brookover
WHEELING: Ryan Gossett
INTERNATIONAL
ARGENTINA: Sebastian Colla
AUSTRALIA: Corrine Denton
AUSTRIA: Tabea Kandlbauer
BOLIVIIA: Valentina Ascarrunz
BRAZIL: Pedro DaSilva
CANADA: Christopher Lamontagne and Cade Preston
COLUMBIA: Felipe Charry
CZECHIA: Michael Jakubek
GERMANY: Robin Hermann, Kasimir Lauber, Lars Popp and Kristin Vogel
HUNGARY: Peter Majer
ITALY: Jessica Cravero
NETHERLANDS: Thom Hermans and Katinka Ummels
PANAMA: Yileen Ng
PERU: Mateo Rivera Carbajal
PHILIPPINES: Shanden Vergara
PUERTO RICO: Sofia Colon
SPAIN: Roberto Fajardo, Claudia Rodriguez Nieto, Aimar Samaniego, Julia Valls and Anna Verdu Cobo
SWEDEN: Johanna Altheden, Amanda Dahlstrom and Fabian Sjoqvist
SWITZERLAND: Fabienne Lotscher
UNITED KINGDOM: Daniel Bradury, Nathan Cooper, Luke Harries, Alex James, Tom O'Brien, Claudie Quinn, Caitlin Thomas and Thomas Turner
Lincoln Memorial University is a values-based learning community dedicated to providing educational experiences in the liberal arts and professional studies.  The main campus is located in Harrogate, Tennessee. For more information about the undergraduate and graduate programs available at LMU, contact the Office of Admissions at 423-869-6280 or e-mail at [email protected].