Alumni Spotlight: Andre Sonne, DMS, PA-C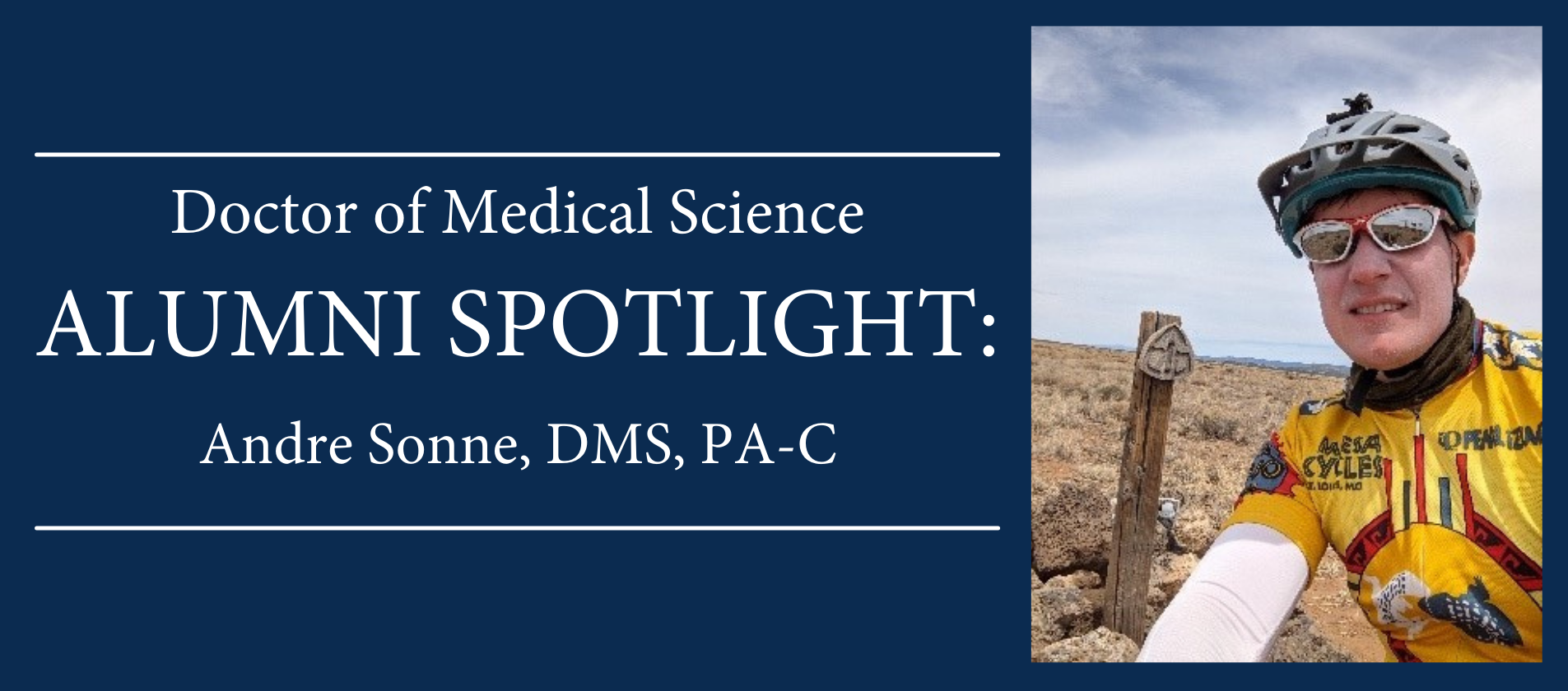 Lincoln Memorial University-School of Medical Sciences (LMU-SMS) alumnus, Andre Sonne, DMS, PA-C, serves as a physician assistant (PA) contractor in El Paso, Texas. Sonne earned his Doctor of Medical Science degree in May 2020 and has been busy over the last year, caring for underserved populations, biking across the nation, and serving as an active-duty soldier during COVID-19.
Sonne has recently been challenged with overcoming language and cultural differences while working near the border, providing medical care to migrants of all ages.
"It is extremely rewarding work. We are frequently the first clinicians these folks have ever interacted with," said Sonne. "The language barriers can be a challenge, but far from insurmountable. I have really enjoyed helping this underserved population."
When the COVID-19 pandemic hit the United States, Sonne worked in general practice as an active-duty soldier.
"We broke new ground on telemedicine and learned to live with N95 masks all day," said Sonne. "I have had to stay abreast of the constantly evolving recommendations so I could help inform my patients and dispel the many myths floating around out there. Today, I feel COVID considerations have just become second nature, and the next battle is vaccine hesitancy."
Sonne says his experience in the DMS program has made him much more comfortable with complex medical patients. He also believes having a doctorate has given him more of a voice at the table when discussing leadership and practice management changes with physicians.
"As a profession, we still have a long way to go to secure our future, but I truly feel the DMS degree is how we get our voice and evolve," said Sonne.
The DMS journey has impacted Sonne in many ways. Sonne touts the program's brilliance for being clinically focused.
"You will come out as a better clinician," said Sonne. "Working with the staff and classmates really opened up my narrow view of what PAs can and are doing in the civilian sector, and we are doing amazing things."
Doing amazing things is something Sonne strives to do both personally and professionally. When not serving his community as a health care professional, he enjoys taking "bikepacking" trips, as he likes to call it. During his latest adventure in Grants, New Mexico, he covered 110-miles of forest service gravel roads for two days along the Great Divide Mountain Bike Race Route. He climbed approximately 4,500 feet and traveled 20 miles on his first day.
"I escape to the natural world every opportunity that I can via self-supported multi-day bike rides," said Sonne. "The Zuni Canyon area of Grants is one of the most serene and beautiful areas I have yet to experience."
To PAs thinking of going back to school to earn their doctorate, Sonne has two words for them, "Do it!"
"It can seem daunting, and there are many doctorate degree haters out there," said Sonne. "But having a doctorate is about completing your formal educational journey, about striving for more than the status quo, and not accepting the bare minimum standards for yourself or your patients."
LMU's first PA program was established in 2009 on the main campus in Harrogate, Tennessee, and is one of the largest PA programs in the United States. In 2016, LMU launched a unique postgraduate training program for PAs with the Doctor of Medical Science (DMS) Program. In 2020, LMU opened a second PA program focusing on advanced surgical training in Knoxville, Tennessee. For more information about the LMU-SMS PA programs, visit www.LMUnet.edu/SMS.
Lincoln Memorial University is a values-based learning community dedicated to providing educational experiences in the liberal arts and professional studies. The main campus is located in Harrogate, Tennessee. For more information about the undergraduate and graduate programs available at LMU, contact the Office of Admissions at 423.869.6280 or email at [email protected].