LMU-CVM Graduates 120 Doctors of Veterinary Medicine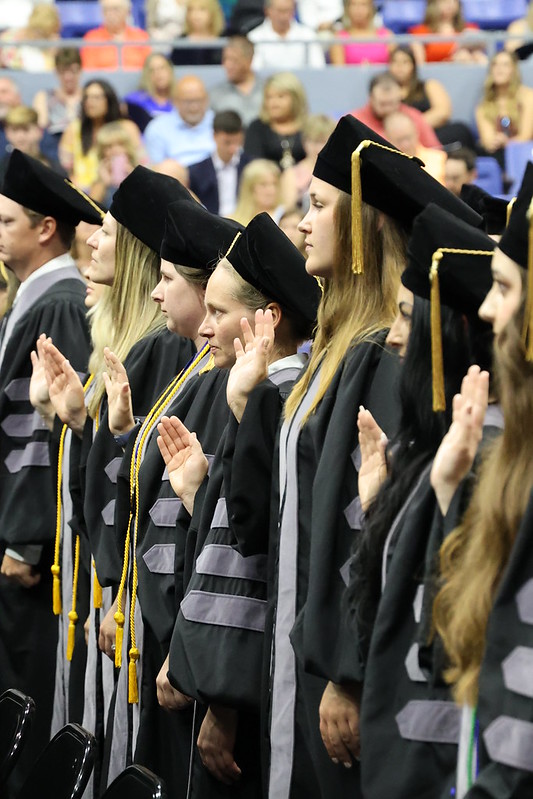 Lincoln Memorial University (LMU) President Clayton Hess conferred the degrees of the 120 members of the LMU-College of Veterinary Medicine's (LMU-CVM) class of 2022 during spring commencement exercises at Tex Turner Arena May 21.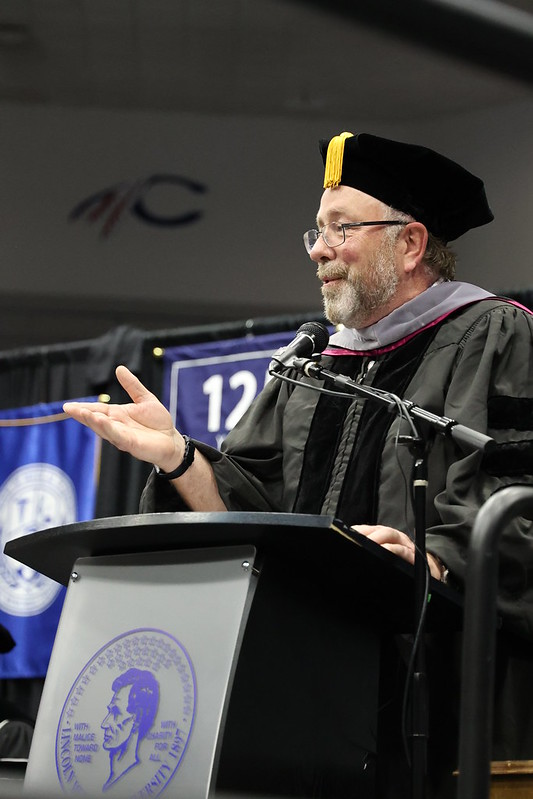 Dr. Bo Brock, owner of Brock Veterinary Clinic in Lamesa, Texas, delivered the commencement address. He spoke to the students about the essence of being a veterinarian.
"When there is no distinction between working and playing, you're never too tired and you're never too anything, because when you go home you're happy, and when you're working you're happy," he said.
Brock is the author of the book "Crowded in the Middle of Nowhere: Tales of Humor and Healing from Rural America," and has given a dozen commencement addresses over the years.
"I am envious of you because you are fixing to write your book. You're fixing to turn the next page. You're fixing to be consistently awesome, and I am jealous of you," Brock said. "You guys have got every opportunity to change our profession for the better and I believe you will."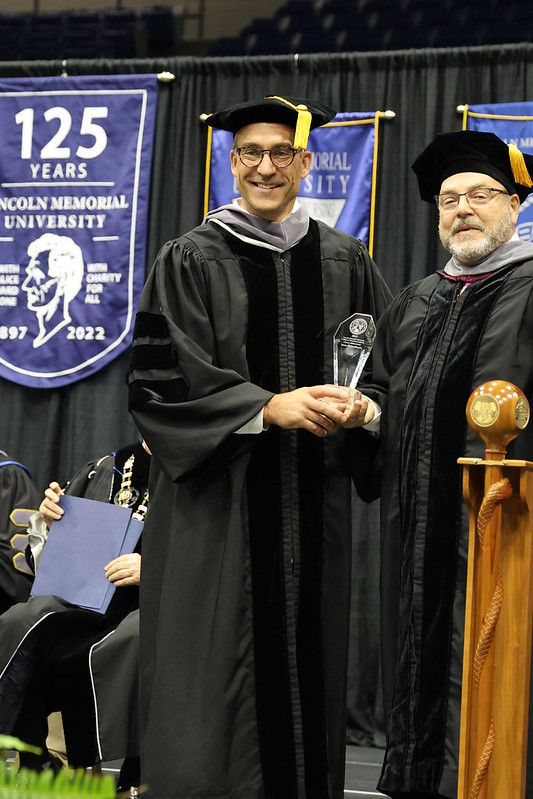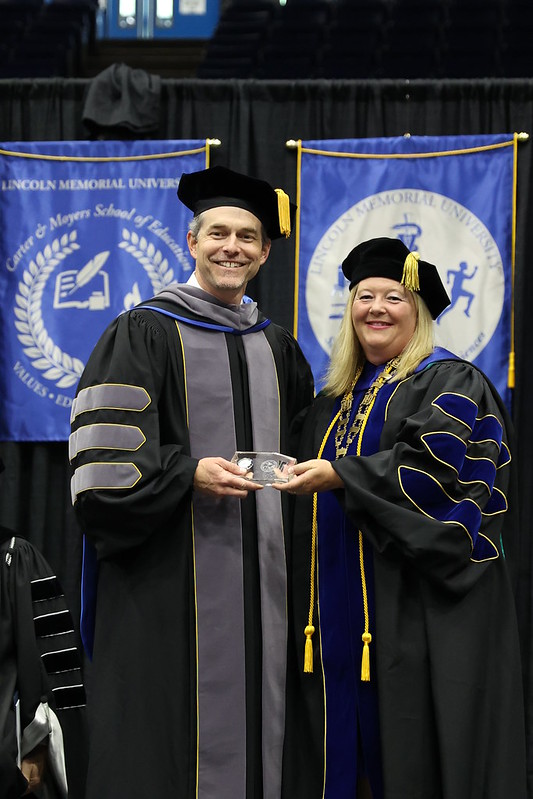 Four special awards were presented during the ceremony. Dean Stacy Anderson presented the Distinguished Service Award to Dr. Gary Vroegindewey. Dr. Mitchell Moses, associate dean of Clinical Rotations, presented the Clinical Affiliate Award to Thrive Pet Healthcare. Dr. Jimmy Murphy, vice president of strategic growth and professional development at Thrive, accepted the award. Anderson presented the Algernon Sydney Sullivan Awards and Mary Mildred Sullivan Award to John and Susan Graves for their ongoing service to LMU-CVM students, and former dean, Dr. Jason Johnson was presented Professor Emeritus status.    
Dr. Randall Evans, associate dean of Career Services and Professional Development, served as Macebearer. During the rollcall of conferees read by Dr. Kim Carney, associate dean for Student Affairs and Admissions, 120 members of the class of 2022 were hooded and received their diplomas. Dr. Julie Hunt, associate dean of Clinical Sciences, led the Veterinary Oath.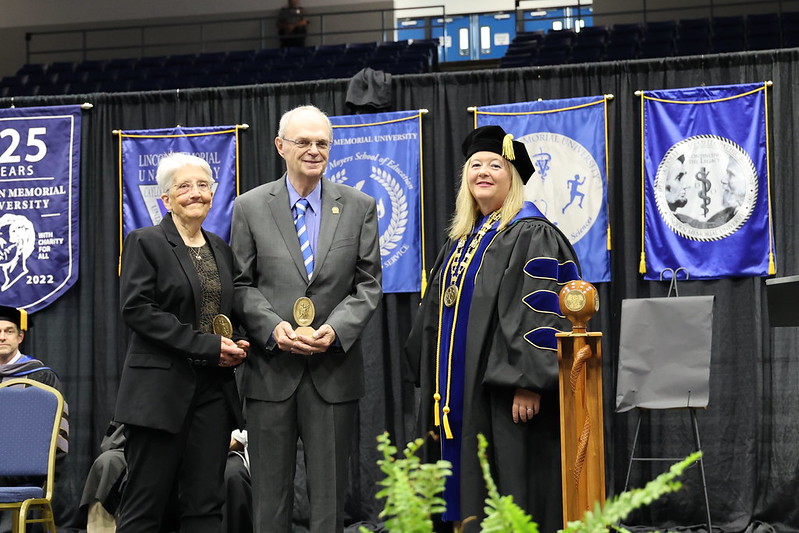 View the digital program here: https://www.flipsnack.com/lmunet/lmu-college-of-veterinary-medicine-commencement-spring-2022.html?fbclid=IwAR0agNLRSwoW45bV-iZrIjN2hfLcLjpOKkYP3vPWAjA-1vKqc_DmGbJFsMY
.
See the recorded event here: https://portal.stretchinternet.com/lincolnmemorialevents/portal.htm?eventId=698263&streamType=video&fbclid=IwAR0lanYG6XKK41xG7UqBgLaAmM88HBWcWc2ZEvoWXrT7gvnLdtJmQfW25Ps
Candid photos of the event can be viewed here:  https://flic.kr/s/aHBqjzQTNV
Lincoln Memorial University (LMU) is a values-based learning community dedicated to providing educational experiences in the liberal arts and professional studies. The LMU-College of Veterinary Medicine is located on LMU's main campus in Harrogate, Tennessee, with additional academic facilities in nearby Lee County, Virginia. LMU-CVM is an integral part of the University's medical programs and provides real-world, community-based education in a collaborative learning environment. For more information about LMU-CVM, call 1.800.325.0900, ext. 7150 or visit us online at vetmed.LMUnet.edu.