A Year Later: LMU-SMS Alumnus Reflects on Her Service in NYC Field Hospital During Peak of Pandemic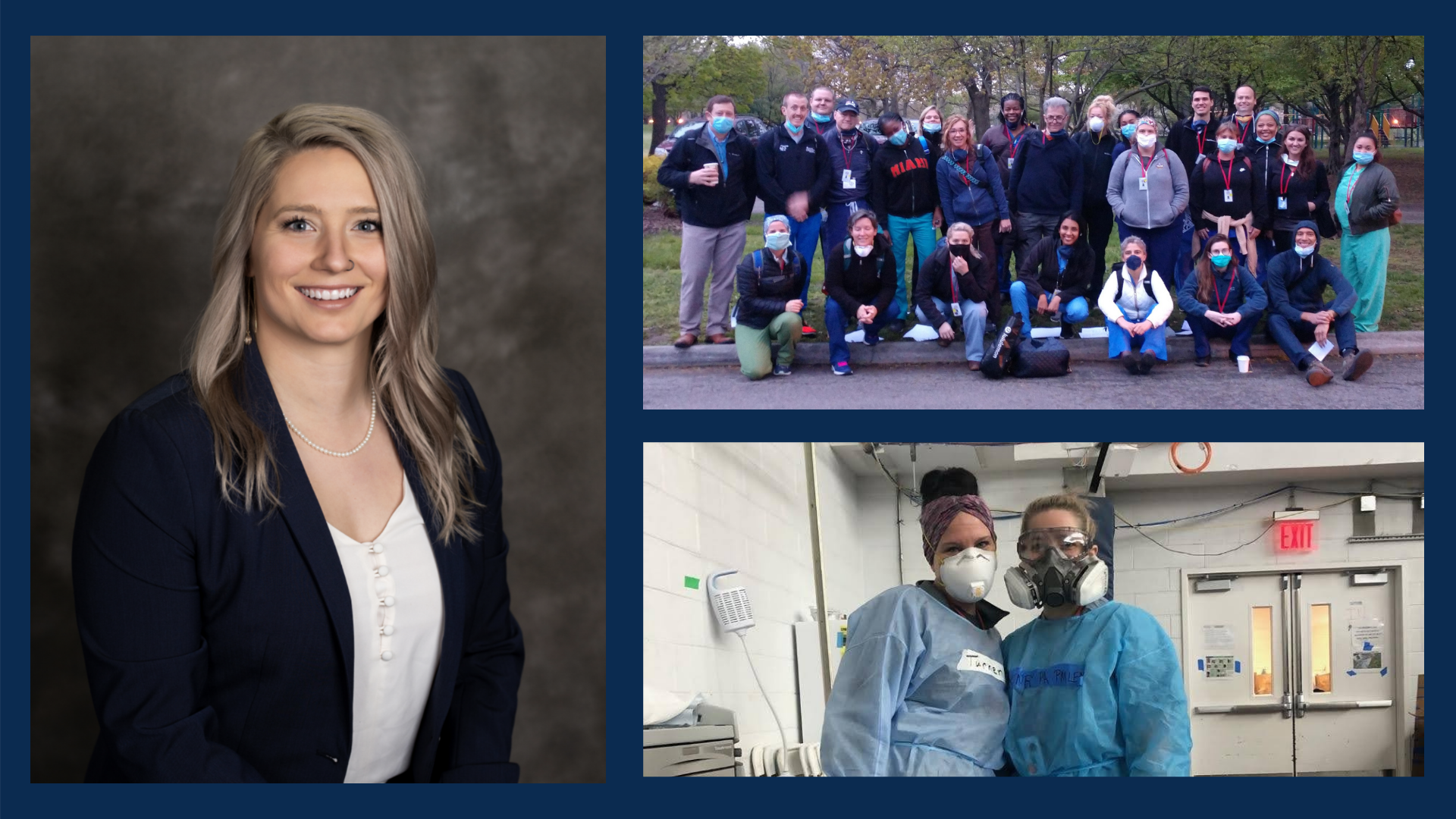 Lincoln Memorial University-School of Medical Sciences (LMU-SMS) alumnus Cortney Bryant, DMS, PA-C, spent over six weeks in New York City (NYC) helping prepare a field hospital and treating its patients during the peak of the COVID-19 pandemic. Now that a year has passed since the pandemic began, Bryant looks back on this challenging yet rewarding experience she will never forget.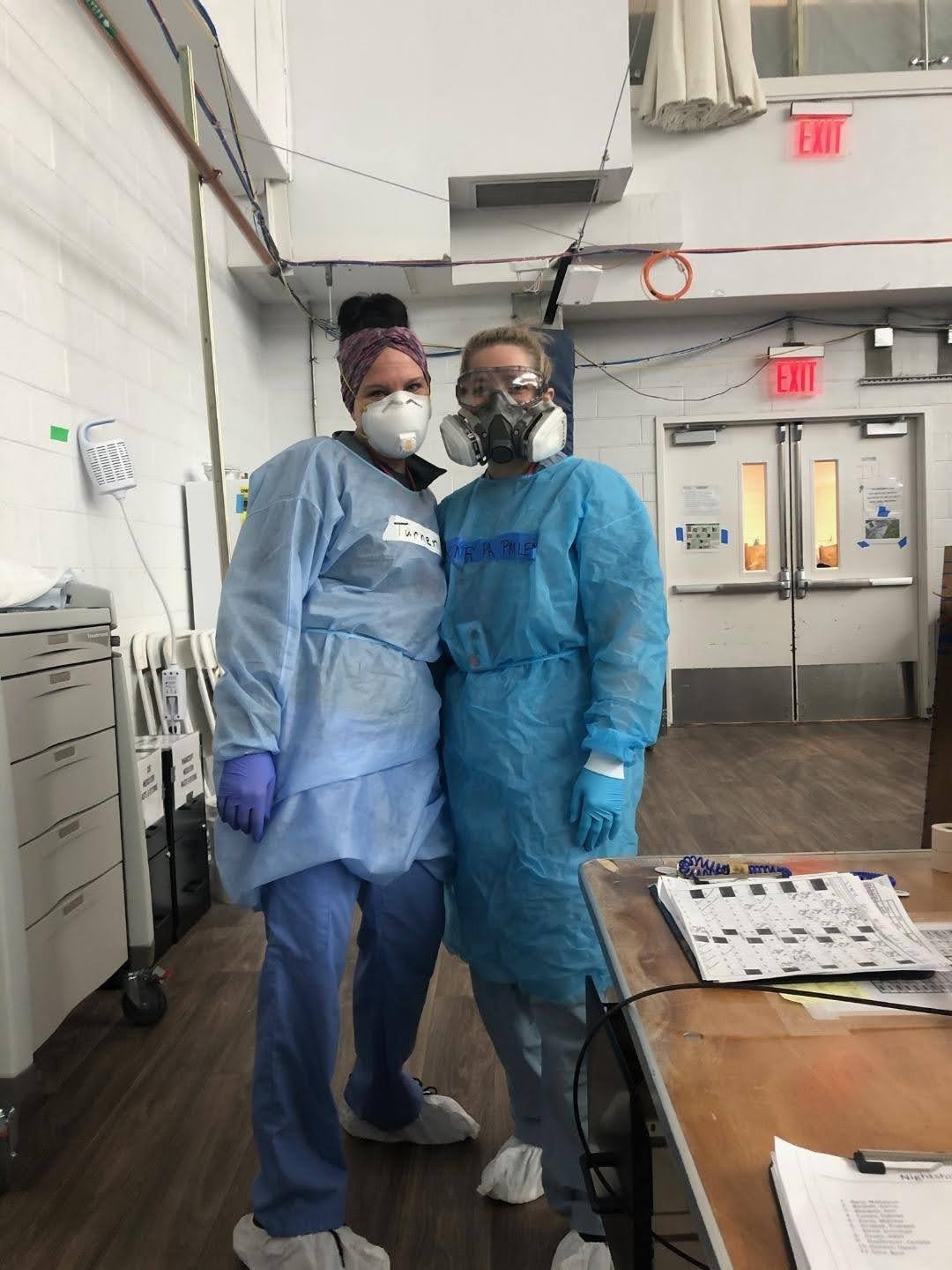 Right before the pandemic peaked in New York City, Bryant and her friend Ashley Kitchens, RN, left their homes in Kentucky and Tennessee and traveled to Queens, New York, to help set up a field hospital in Flushing Meadows Corona Park. The location would soon become known as the Billie Jean King Tennis Center Field Hospital.
"Things were rapidly changing on the ground with plans for the facility because a neighboring facility had closed. So, we jumped in immediately to help," Bryant said. "We helped with the development of the floor plan model, pod design and staffing models – pen to paper of course, as that is about all we had for supplies."
Bryant assumed the role of advanced practice providers supervisor, while her friend served as a night shift charge nurse. They were still several days from being able to see patients. Construction was not complete, and supplies were not stocked, but the facility was filled with approximately 500 medical personnel from medics to physicians ready to begin.
"We had access to a few of the best and brightest in the country, but we were treating a yet unknown disease process pathophysiologically with Covid-19 at that point," Bryant said. "We knew what we were treating, just not yet how to treat it, if we could treat it or what long-term and short-term complications could or would arise - yet."
Each night Bryant held a case study lecture series for general learning and Covid-19 updates on available and recommended treatments and quarantine guidelines, with the help of all local, national and international sources available.
Bryant described groups working on a multitude of projects to get the field hospital ready for patients. One group was developing plexiglass shielded boxes for safer open intubations in a field facility, and another group developed a bagged/valve PEEP system with a goal to prevent intubations, as early on they had no ventilators in the facility. They also sent teams to local hotels to perform simple vital assessments of convalescent patients with COVID-19.

"We had a mixed bag of personnel, from EMTs to physicians and everything in between, from new graduates with no experience to addiction medicine physicians, pathologists, anesthesiologists and infectious disease," Bryant said. "We had very few providers available who had ever actually worked in a real hospital, let alone a field hospital."
The field hospital opened the day before the peak of the pandemic in April 2020. Once set up, Bryant and her friend stayed for six weeks treating patients in the field hospital.
"The experience was rewarding, interesting and challenging and in many ways quite different than what one would expect," Bryant said. "But it was definitely a tribute to a global pandemic in which the end result is still yet to be determined."
Bryant is now at home in Clarksville, Tennessee, where she works at an urgent care facility called DoctorsCare, and as an emergency medicine physician assistant at the Centennial Medical Center in Nashville. She and her husband Kevin recently welcomed their new son, Hutch, into the world, another experience she will not forget.
LMU's first PA program was established in 2009 on the main campus in Harrogate, Tennessee, and is one of the largest PA programs in the United States. In 2016, LMU launched a unique postgraduate training program for PAs with the Doctor of Medical Science (DMS) Program. In 2020, LMU opened a second PA program with a focus on advanced surgical training in Knoxville, Tennessee. For more information about the LMU-SMS PA programs, visit www.LMUnet.edu/SMS.
Lincoln Memorial University is a values-based learning community dedicated to providing educational experiences in the liberal arts and professional studies. The main campus is located in Harrogate, Tennessee. For more information about the undergraduate and graduate programs available at LMU, contact the Office of Admissions at 423.869.6280 or email at [email protected].