DMS Alumnus Volunteers to Give Vaccine Shots to Tennesseans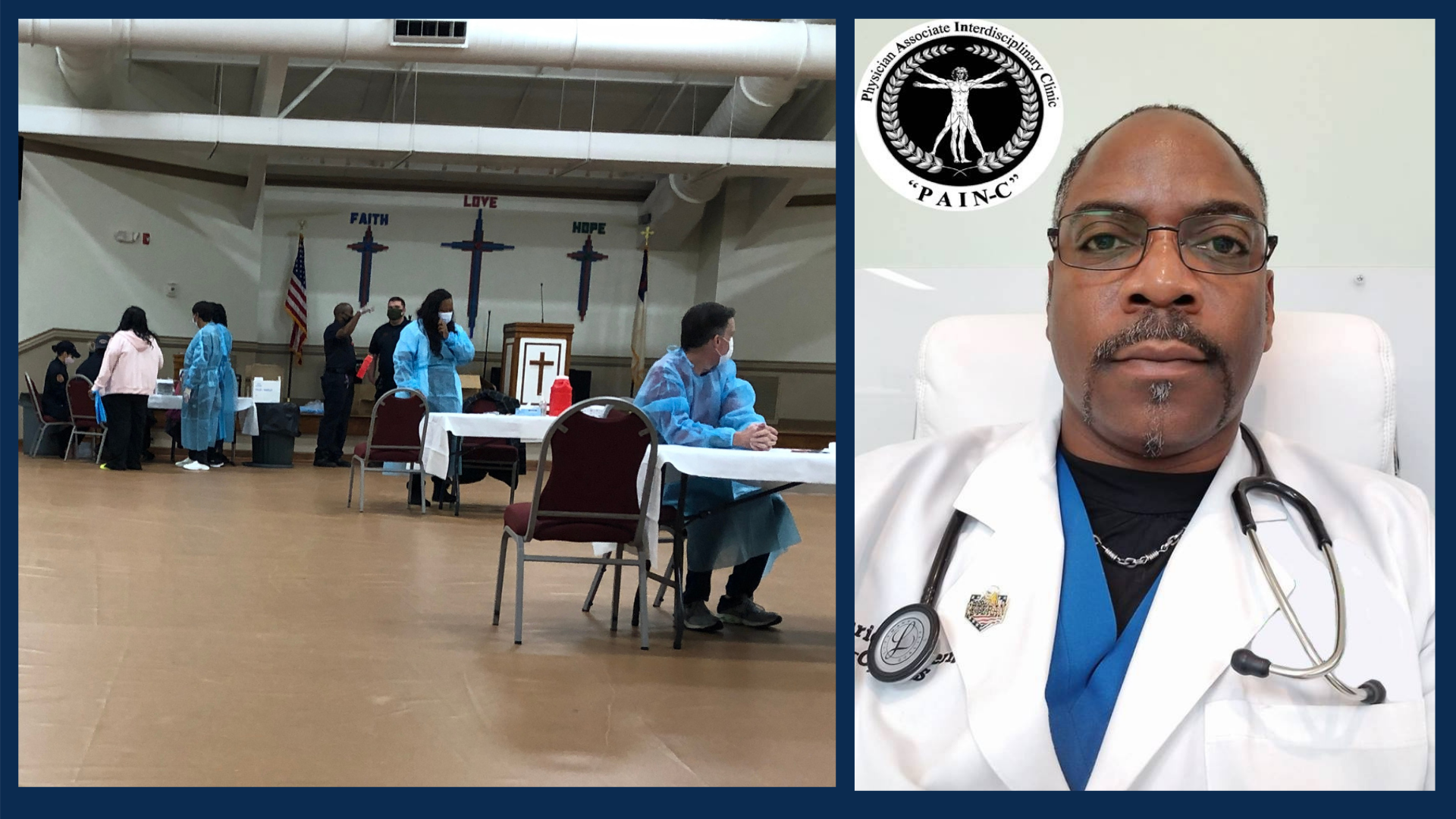 Lincoln Memorial University-School of Medical Sciences (LMU-SMS), Maurice Skillern, DMS, PA-C, participated in the Shelby Country Health Department's pop-up vaccine clinic in Memphis, Tennessee February 27. Skillern serves as an on-call volunteer as a member of the Medical Reserve Corps (MRC) program.
"When there is help needed to provide medical care in Tennessee, they give me a call. Of late it is for pop-up vaccination sites to give COVID-19 injections to Tennesseans," Skillern said.
While serving in active duty in the military he gained experience running shot and immunology clinics. Skillern now owns and operates the Physician Associate Interdisciplinary Clinic (PAIN-C) where he hopes to soon setup special shot days in his clinic to give COVID-19 vaccine injections.
"I will most likely be dealing with the Moderna and Johnson and Johnson vaccines since they can be maintained inside a refrigerator," said Skillern. "It is important as physician assistants and health care providers that we show our commitment to the welfare of our fellow Americans by doing what we can to actively participate in vaccine distribution."
Skillern has practiced as a physician assistant for 19 years, eight of those years specializing in orthopedics, and has served in the medical field for a total of 34 years. Skillern received his Doctor of Medical Science degree from LMU in 2018, and his Master of Physician Assistant Studies (MPAS) degree from the University of Nebraska College of Medicine in 2003. Skillern spent most of his adult life serving in both active duty and reserve components in the United States Army. He has served in three conflicts including Desert Shield/Storm, Joint Endeavor (Germany) and Iraq Freedom (Baghdad, Iraq). He has served as an enlisted soldier through the rank of Sergeant First Class E7 and retired in 2008 as an Officer/Captain.
LMU's first PA program was established in 2009 on the main campus in Harrogate, Tennessee, and is one of the largest PA programs in the United States. In 2016, LMU launched a unique postgraduate training program for PAs with the Doctor of Medical Science (DMS) Program. In 2020, LMU opened a second PA program with a focus on advanced surgical training in Knoxville, Tennessee. For more information about the LMU-SMS PA programs, visit www.LMUnet.edu/SMS.
Lincoln Memorial University is a values-based learning community dedicated to providing educational experiences in the liberal arts and professional studies. The main campus is located in Harrogate, Tennessee. For more information about the undergraduate and graduate programs available at LMU, contact the Office of Admissions at 423.869.6280 or email at [email protected].