LMU-CVM's Virtual 2020 CAHA Conference Addressed the Impact of Covid-19 on Humans and Animals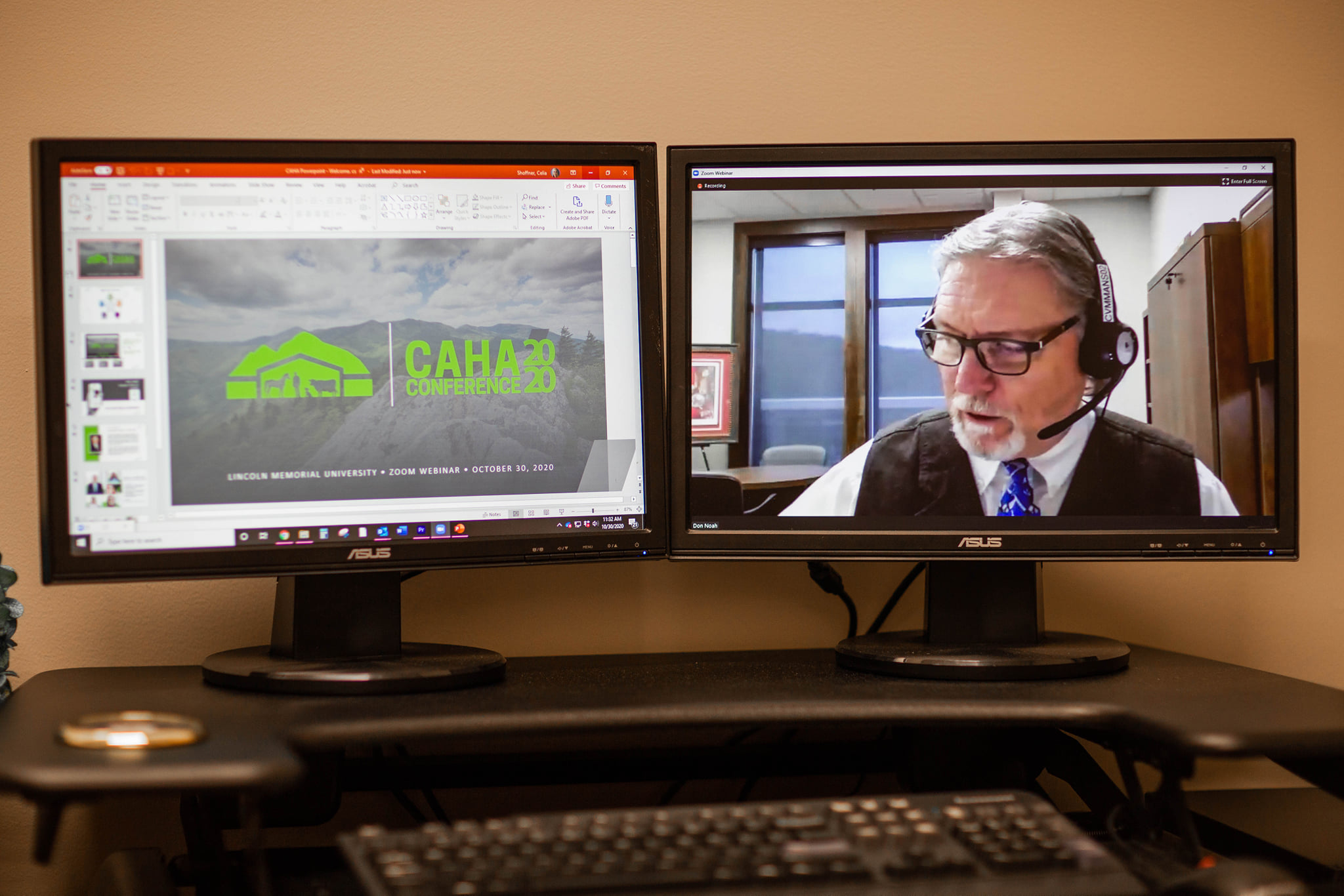 Lincoln Memorial University-College of Veterinary Medicine (LMU-CVM) hosted the 2020 Center for Animal and Human Health in Appalachia (CAHA) Conference virtually on Oct. 30, 2020 via Zoom Webinar. This was the sixth conference held by LMU-CVM and its timely focus was on significant impacts of the COVID-19 pandemic on human and animal health issues in the United States.
"We remain steadfast in our mission of not only serving and supporting Appalachia, but enhancing it in terms of physical, mental, and environmental health and the annual CAHA conference brought together students across medical programs to discuss One Health issues," said Dr. Donald L. Noah, executive director for CAHA. "As we navigate through a global pandemic, it is important to keep the conversations about human and animal health issues at the forefront of the discussion."
Dr. Gerald W. Parker, Jr., the associate dean for Global One Health and director of the Pandemic and Biosecurity Policy Program at Texas A&M University served as the keynote speaker. He highlighted the governmental preparations for and responses to the pandemic. Parker discussed how although the pandemic was not predicted with great specificity, the national response system proved agile in assessing its magnitude, focusing the scientific community on unprecedented pharmaceutical countermeasures, and assisting states and individuals to protect themselves from even greater morbidity and mortality.
Dr. Megin Nichols, the Enteric Zoonoses Activity Lead at the Centers for Disease Control and Prevention (CDC) and Mary Pomeroy, an epidemiologist at the CDC working within the COVID-19 response in the Food Systems Working Group, provided an overview of the complexity of the U.S. food production system and the impacts of COVID-19. Despite the enormity of U.S. agricultural production, regions of food insecurity were significantly exacerbated by the pandemic.
Dr. Mary-Margaret Fill, a medical epidemiologist for the Tennessee Department of Health, discussed similarities and differences between states and regional populations' experiences with the expanding pandemic. Her message focused on State efforts to characterize the dynamics of the disease on various populations, formulate social and economic strategies to minimize disease transmission, anticipate epidemiologic conditions for eventual recovery, and prioritize subpopulations for receipt of novel vaccines and other countermeasures.
Dr. Apryle Horbal, president of VetNow, spoke on telemedicine and telehealth issues as it relates to COVID-19. The pandemic facilitated rapid advances in developing and delivering novel modalities of health care provision to nearly all populations, regardless of economic, geographic and legal constraints, which will be beneficial in the post-COVID environment.
Finally, a panel of animal and human health care professionals including Dr. Michael Hatcher, Dr. David Heath, and Dr. Michael Stephens and Dr. Laura Strong addressed clinical issues imposed on their respective professions by the COVID-19 pandemic. Despite those rate-limiters, each related ways in which they were able to continue providing care through such means as telehealth and curbside care.
"This pandemic has underscored the absolute requirement for future One Health collaborations between human health care providers, veterinarians, wildlife specialists, environmental scientists and social scientists," Noah said. "In the absence of these collaborations, pandemics and even pre-existing disparities in health care provision will continue. This is not only an opportunity, but a responsibility."
One Health is a global initiative that encourages collaboration among all health disciplines with the goal of attaining optimal health for people, animals and the environment. This event brings together One Health experts from the region and across the nation as well as students from a variety of LMU's health care programs to discuss how veterinarians, doctors, nurses, physician assistants and other medical professionals, environmentalists, epidemiologists and many others can work together to solve global health problems. The event is organized annually by CAHA, whose mission is to improve animal health and public health in the Appalachian region. Whether students plan to be veterinarians, public health nurses, environmental specialists or physicians, they will play an integral role in developing the future of global health care.
Lincoln Memorial University (LMU) is a values-based learning community dedicated to providing educational experiences in the liberal arts and professional studies. The LMU-College of Veterinary Medicine is located on LMU's main campus in Harrogate, Tennessee, with additional academic facilities in nearby Lee County, Virginia. LMU-CVM is an integral part of the University's medical programs and provides real-world, community-based education in a collaborative learning environment. For more information about LMU-CVM, call 1.800.325.0900, ext. 7150 or visit us online at vetmed.LMUnet.edu.