Meet our School Counselor
Ms. Jamie Baker
Our school counselor, Ms. Jamie Baker, ensures that all Knights know someone is in their corner.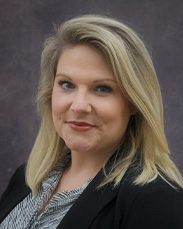 She helps provide families with academic resources, college counseling, career counseling, and other support.
Her office is located in JFWA 105. She can also be reached at [email protected] or at 423.869.6475.
 

Read Ms. Baker's Full Bio

Jamie Baker is a dedicated school counselor with over a decade of experience in the field. She graduated with a Bachelor of Science in Psychology from Union College in Barbourville, KY, and began her career as a Therapeutic Day Treatment Counselor working with children in the Lee County Public School System in Virginia.

Jamie's passion for helping students led her to pursue a Masters in School Counseling from Lincoln Memorial University. She then began working as a school counselor in the Lee County Public School System in 2015, where she provided guidance and support to students on a wide range of academic and personal issues.

In 2021, Jamie joined the Academy as a school counselor, where she continues to work with students on academic success, as well as their social and emotional well-being. She is committed to helping students overcome obstacles and reach their full potential, both inside and outside of the classroom.

In addition to her work as a school counselor, Jamie is an avid reader and enjoys staying up to date with the latest developments in the counseling world. She also enjoys spending time with her family, which includes her husband, Matthew, and their son, Ezra. Jamie resides in Rose Hill, VA, and feels grateful to be able to serve her community as a school counselor.