Our Heritage. Your Future.
At LMU Law, we are excited about our future and want you to be part of it. Lincoln Memorial University founded the John J. Duncan, Jr. School of Law in 2009 to become a key player in training tomorrow's lawyers. Our location in downtown Knoxville, accessible faculty, first-rate facilities, and rigorous curriculum provide a learning environment that puts our students at the forefront of legal education.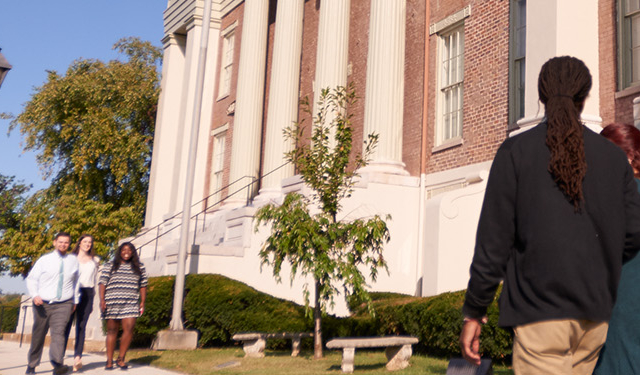 In just a few years, LMU Law has already begun making a positive impact wholly disproportionate to our size. We have established a rapport with members of the bench, the bar, and the wider community. Our faculty members are experts in their fields who also participate in public service initiatives with local schools, clinics, social agencies, and other organizations.
Anxious to see the law come to life, our students are active in pro bono work, internships, externships, and countless student organizations. Our students have also enjoyed success in moot court competitions and mock trial tournaments. These activities complement a comprehensive classroom experience offering small classes, accessible teachers, and an academic support program that one external consultant described as one of the best in the country. If you are interested in a legal education that is anything but conventional, let us help you unlock your potential.
Student-Centered Technology
At LMU Law, our teaching model uses interactive software to help students interpret, analyze, and apply legal concepts. Our faculty also use these programs to test group and individual progress throughout the semester in order to identify learning challenges. Our classes are recorded for later viewing or listening.
Since lawyers spend much of their time finding information, LMU Law's curriculum emphasizes mastering the art of legal research in the 21st century. Unlike most law schools, our librarians do not sit at circulation desks. They are positioned throughout the law school and are constantly available to support students and faculty. They are also integrated into our Academic Support Program and help students develop the research skills they will need during law school and beyond.
Passionate and Skilled Faculty
Any law school's strength lies in the quality of its faculty. LMU Law is proud of its faculty members, who demonstrate an uncommon devotion to student success and remaining current in their respective areas of expertise. Our faculty are frequently invited to speak at conferences in the U.S. and abroad. Their scholarly writings can be found in leading publications and reflect a commitment to exploring both the theoretical and practical dimensions of their fields. These pursuits enrich classroom instruction, helping our faculty challenge students to look beyond their textbooks by placing law in a variety of contexts. LMU Law's faculty also support student life as mentors, advisors, and supervisors for student organizations.
Innovative and Insightful Teaching
At LMU Law, legal education is not merely an academic process, but an invitation to see the world from different angles. As forward-thinking teachers, our professors have made it their mission to do more than teach. They use our small classes to ensure each student gets a level of individual attention that's rare in law school. We are confident that our learning spaces offer a unique combination of technology, intimacy, and academic rigor that will help LMU Law's alumni become tomorrow's leaders in law, business, public interest advocacy, government, and anywhere else their dreams may take them.
Commitment to Academic Success
Just as mechanics need their tools, law students and lawyers require a mix of core competencies. These include the ability to read large volumes of material, identify and analyze relevant pieces of information, conduct thorough legal research, produce high-quality written work, and present effective oral arguments on issues of law. Our faculty includes a talented team of experts who help students develop their craft as tomorrow's lawyers. Students are divided into small groups where they prepare a variety of skills-based assignments designed to refine some of the technical skills required for a 21st century law practice.
A Historical and Cultural Crossroads
Our cutting-edge facilities lie within walls that tell the story of Knoxville itself. LMU Law occupies five interconnected buildings located near Knoxville's historic Old City and vibrant Market Square. The main building, built in the 1840s, originally housed the Tennessee School for the Deaf. The school occupied this site continuously until 1924, except for a three-year period during the Civil War when the building served as a hospital. The property served as the site of Knoxville's City Hall from 1925 until 1980, and the home of the Tennessee Valley Authority (TVA) from 1983 until 1993. LMU Law opened in 2009.