The LMU Pool will be reopening on April 5th, 2021.
BOOKING:
Please click this link to schedule your appointment time.
POOL SCHEDULE: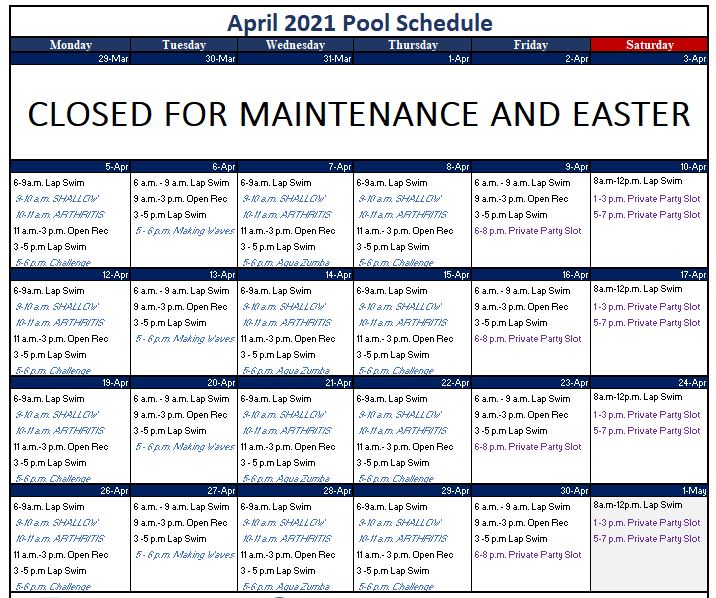 LMU POOL POLICIES & REGULATIONS: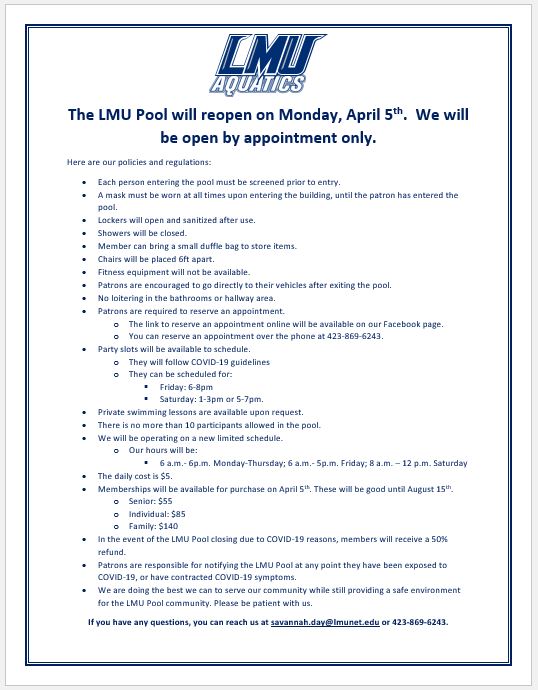 SUMMER MEMBERSHIP PRICES:
Memerbships are vaild from April 5th through August 15th.
$5.00 daily fee
Senior Membership- $55.00
Individual Membership- $85.00
Household Membership- $140.00
Children under 3 - FREE
Students/Staff with LMU ID - FREE
POOL PARTY INFORMATION:
Private Party Slots:
Friday: 6:00 p.m. - 8:00 p.m.
Saturday: 1:00 p.m. - 3:00 p.m. or 5:00 p.m. - 7:00 p.m.
Pricing:
$150 for standard 2 hour rental

Includes tables and chairs set up upon arrival.
Payment in full is required to reserve the pool.
Current students and employees receive a 10% discount off standard rental rates.
All after hours rate including extended day, Sunday, and holiday pricing:

0-50 Swimmers $225 (*No discounts allowed)

Non-party prices are available for private rental i.e. group workouts, baptisms, and other non-party events.
Regulations:
A mask must be worn by everyone attending the party until entering the pool.
All members must sign in upon entering.
All members must sign a COVID-19 release form.
Party hosts must serve food in a buffet style. Sanitary materials will be provided.
To ensure the safety and sanitation of our facility all areas, or equipment used will be santitozed before and after each party.
SWIMMING LESSONS:
Pricing:
5-30-minute lesson: $100.00
6-45-minute lessons: $150.00
9-30-minute lessons: $150.00
Siblings are an additional $50 per child with 3 children max.
Regulations:
Only private lessons are being offered at this time.
All swim instructors will wear a mask during the lesson.
All equipment will be sanitized after use.
All members of the party must check-in upon entering the facility.
Members of the group not partaking in the lesson must wear a masl at all times.
LIFEGUARDING CERTIFICATIONS:
Contact Savannah Day for more information regarding Lifeguarding Certifications, Lifeguarding Recertifications, CPR/First Aid Certifications, or Bloodborne Pathogen Certifications.
Contact:

Savannah Day
Aquatics Coordinator
NSPF CPO, American Red Cross LG, LGI, WSI