Please note: the LMU Pool will be reopening on April 5th, 2021 by appointment only.
Lincoln Memorial University Pool Schedule
Monday - Thursday 6:00 a.m. - 6:00 p.m.
Friday 6:00a.m. - 5:00p.m.
Saturday 8:00a.m. - 12:00p.m.
Closed Sundays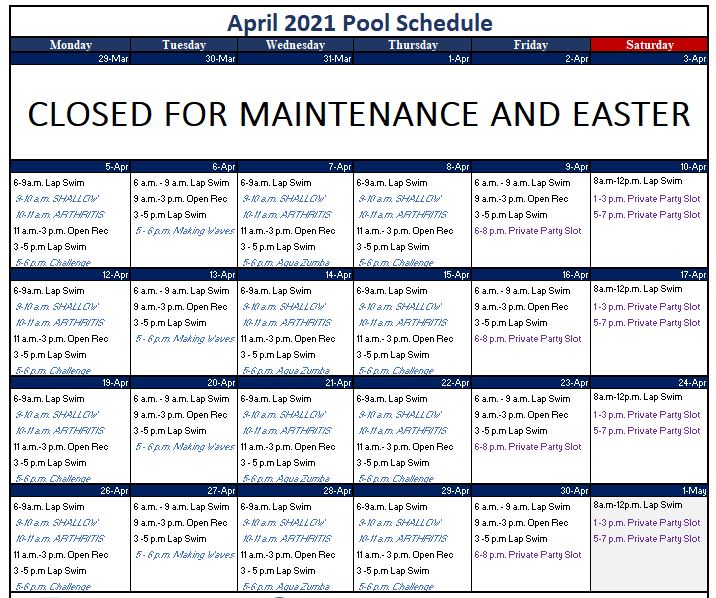 Book the LMU Pool
Schedule your appointment time
Pool COVID-19 Policies & Regulations
Facility Policies
No loitering is permitted in the bathrooms or hallway area.
Lockers are available and sanitized after each use.
Showers are currently closed.
Fitness equipment is unavailable for use at this time.
All chairs are placed six feet apart.
In the event of the LMU Pool closing due to COVID-19 reasons, members will receive a 50% refund.
Visitor Policies
You must make an appointment to use the pool.
Each person entering the pool area must be screened prior to entry.
A mask must be worn at all times upon entering the building until you have entered the pool.
We encourage you to go directly to your vehicle after exiting the pool.
If you are a pool member, you may bring a small duffle bag for your belongings.
You are responsible for notifying the LMU Pool at any point if you have been exposed to COVID-19, or have contracted COVID-19 symptoms.
Swimming Lessons
Only private lessons are being offered at this time. Up to 10 participants are allowed per session.
Five 30-minute lessons: $100.00
Six 45-minute lessons: $150.00
Nine 30-minute lessons: $150.00
Siblings are an additional $50 per child; maximum of three children.
Swimming Lesson Policies
All swim instructors wear a mask during the lesson.
All equipment is sanitized after use.
All members of the party must check-in upon entering the facility.
Members of the group not partaking in the lesson must wear a mask at all times.
Lifeguard Certification
Contact Savannah Day for more information regarding Lifeguarding Certifications, Lifeguarding Recertifications, CPR/First Aid Certifications, or Bloodborne Pathogen Certifications.

Savannah Day
Aquatics Coordinator
NSPF CPO, American Red Cross LG, LGI, WSI
[email protected]
423.869.6243
Summer Pool Membership
Memberships are valid from April 5th through August 15th.
Daily Pass: $5.00
Senior Membership: $55.00
Individual Membership: $85.00
Household Membership: $140.00
Children under 3: FREE
Students & Staff with LMU ID: FREE
Have a Pool Party at LMU!
Private Party Slots
Friday 6:00 p.m. - 8:00 p.m.
Saturday 1:00 p.m. - 3:00 p.m.
Saturday 5:00 p.m. - 7:00 p.m.
Pricing
Standard 2-hour rental: $150

Includes tables and chairs set up upon arrival.
Up to 50 Swimmers

After-hours rates: $225

After-hours = extended day, Sundays, and holidays
No discounts for after-hours reservations.
Payment in full is required to reserve the pool. Current students and employees receive a 10% discount off standard rental rates. Non-party prices are available for private rental, i.e., group workouts, baptisms, and other non-party events. Please contact us for details.
Pool Party Policies
A mask must be worn by everyone attending the party until entering the pool.
All members must sign in upon entering.
All members must sign a COVID-19 release form.
Party hosts must serve food in a buffet style. Sanitary materials will be provided.
To ensure the safety and sanitation of our facility, all areas or equipment used will be sanitized before and after each party.