Faculty at LMU-CVM are engaged in basic and applied veterinary research that enriches learning experiences of our veterinary students through our areas of research. The overarching goal of our research program is to expose our students to the methods of discovery, and to prepare them for self-directed learning. This is achieved by embedding relevant research topics in our curriculum and providing students opportunities to work on research projects that address critical questions in veterinary medicine.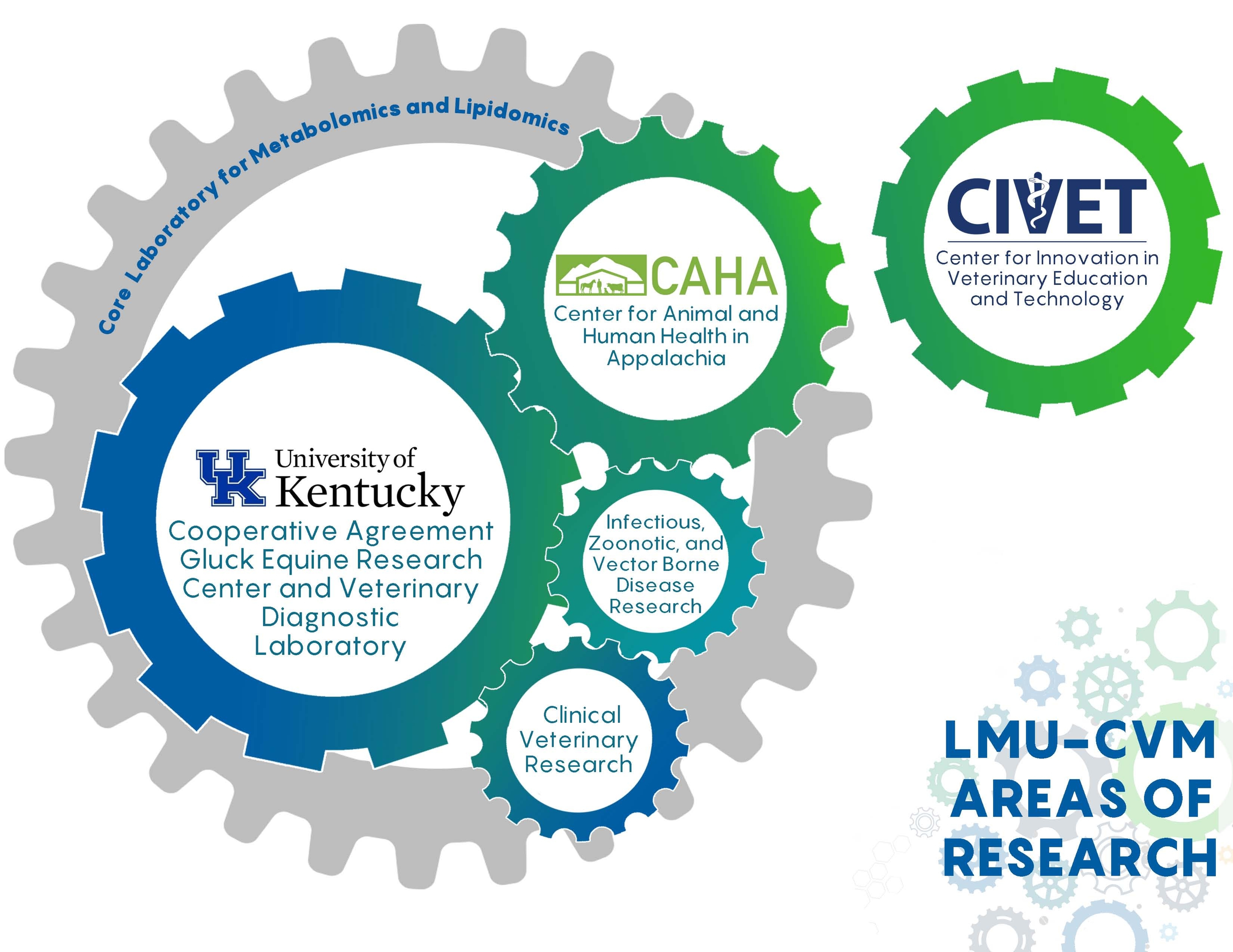 Core Laboratory for Metabolomics and Lipidomics
The LMU-CVM Core Laboratory for Metabolomics and Lipidomics utilizes a high-resolution mass spectrometry to build analytical platforms designed to detect biomarkers of disease, of disease progression and of disease response to therapy. In addition, this analytical approach offers the potential to define new therapeutic targets for defined diseases. Utilizing these platforms, the unit collaborates with veterinary researchers and introduces students to modern "omics" research approaches.
Center for Animal and Human Health in Appalachia
The Center for Animal and Human Health in Appalachia (CAHA) was established in 2015 to focus on animal and public health issues in Appalachia. The mission of CAHA is to inform and pull together innovative ideas to help the veterinary profession, human healthcare, government, and higher education better meet the acute needs of the people and animals of Appalachia. Our veterinary school is devoted to the mission of improving animal and human healthcare in the Appalachia region.
Infectious, Zoonotic, and Vector Borne Disease Research
This area of research aims to advance knowledge and understanding through a multi-disciplinary approach guided by a One-Health paradigm emphasizing the interactive association of human and animal populations with their environment through advanced research training for veterinary students and conducting innovative research utilizing a combination of traditional diagnostic and molecular methodologies. Current projects emphasize the epidemiology and ecology of tick and mosquito-associated disease agents, and elucidating the pathogenic mechanisms underlying several bacterial and parasitic diseases.
Center for Innovation in Veterinary Education and Technology
The Center for Innovation in Veterinary Education and Technology (CIVET) was established by the vanguard thinkers at Lincoln Memorial University-College of Veterinary Medicine to incite and support the dynamic improvement of veterinary education. CIVET is a diverse group that includes researchers investigating novel veterinary educational methods, disruptors of traditional didactic lectures, creators of models for clinical skill simulations and assessments, and front-line clinical educators. These CIVET investigators of change aim to find and share creative solutions to the modern challenges of delivering veterinary education.
Clinical Veterinary Research
This research program focuses on improving animal health through the development of novel diagnostic and treatment modalities based on understanding the pathophysiology of disease. Studies encompass clinical trials, retrospective studies, prospective studies, in vivo and in vitro models, and other studies with a clinical focus. Current areas include equine respiratory diseases, bovine Mastitis, equine Wound management, oncology, equine systemic inflammatory response syndrome.