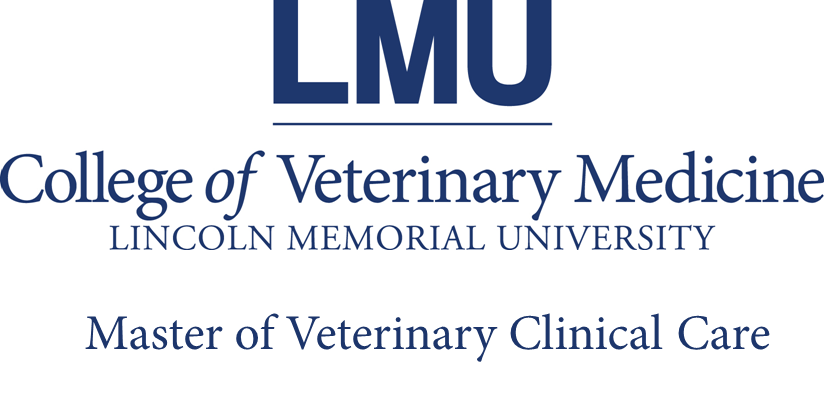 The LMU Master of Veterinary Clinical Care (MVCC) is the first MS program in the US designed specifically for credentialed technicians to build on the knowledge and skills learned in AVMA CVTEA accredited programs. The curriculum was developed in partnership with veterinary industry leaders as part of the Veterinary Innovation Council (VIC). After completing the MVCC, technicians will have advanced knowledge in patient case management, evidence-based medicine and clinical practice, critical thinking, practice management, clinical skills, and professional skills. The program is an asynchronous, semi-customizable, online graduate program designed to provide veterinary technicians advanced training to support the myriad of industries that use veterinary professionals. The curriculum spans 3 semesters that may be taken at a student's own pace to achieve the 30 credits required for degree completion.
At this time, the MVCC degree does not lead toward additional licensure qualification. Students are required to be licensed in their field prior to entry and must maintain compliance with state laws after graduation.
The MVCC program is approved by SACSCOC.
Estimated cost of the program is $650/credit hour for the 2022-2023 academic year.
Admission Requirements
Applications to the MVCC program open November 1 and close June 30 each cycle.
All applicants must be credentialed veterinary technicians (proof of licensure required*), hold a Bachelor of Sciences or Bachelor of Arts with a cumulative GPA of at least 2.8**, and complete the online PostbacCAS Application. 
*Applicants who meet all other admissions requirements but work in a state that does not provide veterinary technician licensure can contact [email protected] for program eligibility.
**It is recommended that applicants have a cumulative GPA of 3.0 or higher to be successful in the program.
 

Required Application Materials

- Complete the PostbacCAS Application

- Official Transcripts for ALL Institutions attended

- Proof of Veterinary Technician Licensure

- Letters of Recommendation (2)

- Full CV

- $50 LMU-CVM Application Fee & $135 CAS Application Fee required *Each payable via PostBacCAS portal

- Two (2) Written Essay Responses, <500 words each:

Why do you feel the MVCC program is the next step in your career and what do you hope to contribute to your field after graduation? Please include specific examples from your career and/or education to support your responses. 
What do you see as primary barriers to technician utilization and technician retention in the veterinary profession? How do you feel technicians could bebetter utilized within the current scope of practice?

 

Required Undergraduate Courses

Admissions Requirements by Pathway of Entry Required Undergraduate Courses*:

100+ level Biology                                      6 credits

100+ level Chemistry                                  6 credits

100+ level English                                       3 credits

*GPA for each prerequisite course must be 2.8 (B-) or higher.

 

Requirements for Graduation

LMU MVCC Program requirements for graduation are as follows: students must successfully complete the required number of credits (30) for graduation, not be on academic or professional probation, and fulfill all financial requirements to LMU.
Curriculum
The MVCC program is a part-time, asynchronous, online program consisting of 30 credit hours culminating in the MVCC degree. The curriculum includes three consecutive semesters of academic and clinical skills education. Two concentrations are currently offered: Small Animal Medicine and Shelter Medicine.
Frequently Asked Questions
 

How will clinical skills such as suturing be graded with a fully online curriculum format?

Clinical skill activities within the program will be evaluated via video recordings of students performing the skills at the practices they work at. Alternatively, students could come to the LMU campus to demonstrate the skills. 

 

 

Will courses in the MVCC program be offered in each semester of the academic year?

Courses in the MVCC program will be offered in the fall and spring semesters.  A full time student will be able to complete the program in 1.5 years over the course of three semesters. 



 

 

I enjoy working with practices who serve as rural, mixed practitioners. With the MVCC program, will I be able to mix and match courses offered within the curriculum to include learning options pertain to small animals, exotics, etc.?

Students in the MVCC program will have the liberty to mix and match courses depending on their preferences within the veterinary field. At this time two concentrations are offered: Small Animal Medicine and Shelter Medicine

 

 

 

 

What is the tuition cost for this program?

Tuition in the MVCC program is proposed to be $650 per credit hour for the 2022-2023 academic year. Actual tuition will be set once the program is fully approved by the SACSCOC.  Financial aid for the program may be applied for via the FAFSA; LMU's school code for the FAFSA is 003502.

 

 

Is licensure as a Veterinary Technician required to be admitted to the program? If I have multiple experiences working in veterinary clinics/hospitals but am not licensed am I a viable candidate for the MVCC program?

At this time proof of licensure as a Veterinary Technician is required in order to be a viable candidate for this program.