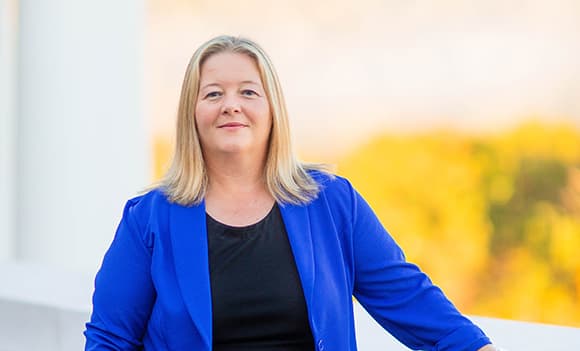 Stacy Anderson, DVM, MVSc, PhD, DACVS-LA | Dean
Professor, Veterinary Medicine
Office: 423.869.6539
what is our why?
Great organizations function by "why" they do what they do, not "what" they do. The LMU-CVM's "why" can be captured in one sentence: We strive to positively impact the veterinary profession. And how do we do that? By graduating confident, competent veterinary professionals who are workplace ready. There is a lot of time and effort put into that "how" from the highly dedicated faculty and staff who are laser-focused on creating amazing veterinary graduates. 
We are a values-based organization. Values which have been developed by our entire CVM team and are comprised of student success, academic quality, innovation, professional excellence, and community culture. Notably all of these values relate back to our "why." We cannot graduate successful students who impact the profession positively without academic quality. Students would struggle to be successful if we did not focus on their academic excellence and creating a community culture for them to flourish. Our staff and faculty's commitment to professional excellence and innovation allow us to deliver a state-of-the art education that culminates in a workplace-based clinical year that truly allows our students to positively impact the profession immediately upon graduation.
We have a couple new "how" initiatives to add to supporting our "why" of positively impacting the veterinary profession. Both of these new initiatives are aimed at addressing the current crisis in the veterinary profession – a workforce shortage that is rapidly inhibiting the ability for the profession to adequately provide veterinary services to society. One initiative is to expand our class size by entering a second cohort of 100 students each spring semester.  This will allow us to graduate 100 more veterinarians each year to address the acute need for veterinarians. The second initiative is to create a career pathway for veterinary technicians/nurses through a new Master's level program (Master of Veterinary Clinical Care). This MVCC program will hopefully lead to the development of a mid-level professional in the veterinary profession to expand the scope of the veterinary healthcare team and address the veterinary care shortage at the societal level.
LMU-CVM will have a positive impact on the veterinary profession through our current programs and new initiatives. Those associated with LMU-CVM at an level can know that they are part of an organization that is an industry leader who is shaping the profession for the future.