LMU's Fall Virtual Career & Graduate School Fair is October 21, 2021!
Businesses and Graduate Schools:
In an effort to simplify registration and ensure accuracy, we have created an online registration form for businesses and graduate/professional schools to sign up. Once you have finalized the decision to attend the Career/Education Fair, simply click the link below and fill out the required information.  Registration is FREE!
Businesses and Graduate Schools: Register Here for the LMU Virtual Career Fair - Fall 2021
Students: 
As always, attending the Career Fair is FREE for students.  Please see our list of graduate schools and companies that are attending the career fair this semester.  If you are interested in speaking with one or more of these schools/businesses, please click on their Zoom link during their hours of availability on October 21, 2021.
SPEAK with EMPLOYERS & GRADUATE SCHOOLS in 3 easy steps!
Look at employers' & grad schools' hours of availability in the chart below.

Click on Zoom link(s) of any schools or companies that you would like to connect with.
Speak with a school or company representative to ask about internships, jobs, or graduate/professional school admissions!
*If you have questions during the Career Fair, please click on the Zoom link beside of the LMU Office of Career Services (below).
Check back for more details closer to the event.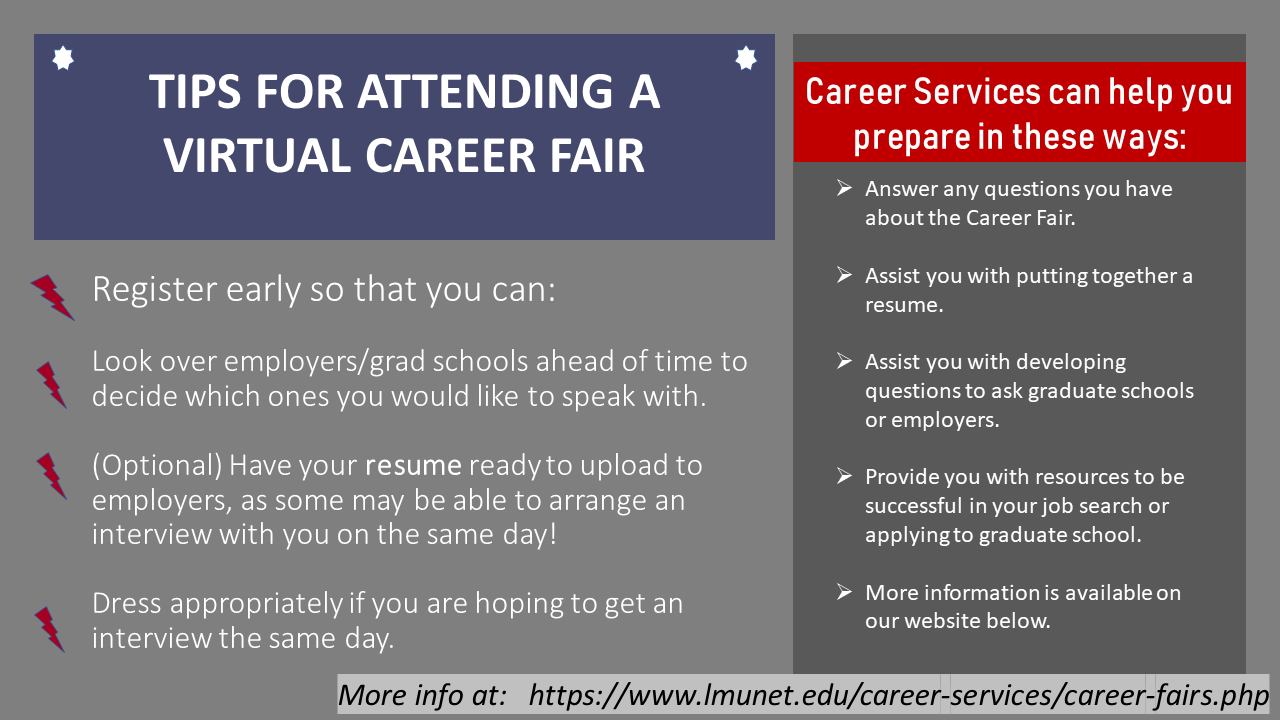 ---
If you have any questions regarding the Career / Education Fair, or if you are interested in joining our list of growing employment partners please contact:
Jennifer Butcher, Director of Career Services

423-869-6679
Students: Watch the video below to learn how to Prepare for a Career Fair.
"Like" our
page to be notified of all of our events!
Office of Career Services
[email protected]
Lincoln Memorial University
6965 Cumberland Gap Parkway
Harrogate, TN 37752