LMU's Spring Career & Graduate education Fair: April 20, 2022 from 10:30am-1:00pm in mans!
Businesses and Graduate /Professional Schools:
In an effort to simplify registration and ensure accuracy, we have created an online registration form for businesses and graduate/professional schools to sign up. Once you have finalized the decision to attend the Career/Education Fair, simply click the link below and fill out the required information.  Registration is FREE!
Businesses and Graduate/Professional Schools: Register Here by April 12th for the LMU Career/Graduate Education Fair - Spring 2022
Date:  4/20/22
Time:  10:30AM - 1:00PM   
Location:  Hamilton Math & Science Building (MANS); 325 Hamilton Way, Harrogate, TN  37752 
Students and Attendees: 
Representatives from companies and schools are wanting to meet with you!
As always, attending the Career Fair is FREE.  Please see our below list of graduate or professional schools and employers that are attending the career fair this semester (more are registering all the time).  If you are interested in speaking with one or more of these schools/businesses, please stop by the MANS building on April 20, 2022 between the hours of 10:30-1:00.  They will be located in the atriums of the 1st, 2nd, and 3rd floors (around the staircase).  Come say hello, collect some SWAG, and learn about internships, employment, and admission to graduate or professional schools!  
Students who sign in for the Career Fair at the Office of Career Services table (located at the entrance to the first floor stairway) will be entered in a drawing for a chance to win a $50 gift certificate to the LMU Bookstore!  Attendance at this event can also earn you Splitter Reward Points!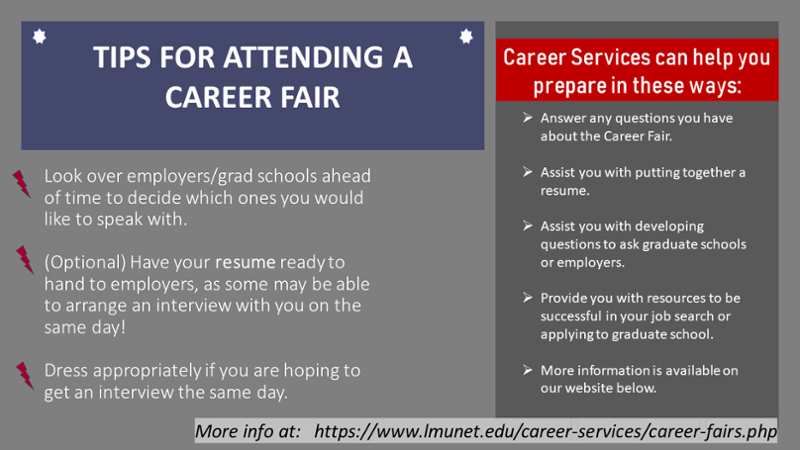 *If you have questions during the Career Fair, please come to the table of the LMU Office of Career Services on the first floor of MANS.
Career Fair Participants

Logo

Company/School Name

LMU Office of 

Career Services 

Jennifer Butcher, Director of Career Services and Sheri Schatz, Career Services Counselor will be available all day to assist & answer questions

 

Kentucky Career and Technical College System (KCTCS)

Hiring Majors: All 

Robertson County Schools

Hiring Majors: Education

Federal Bureau of Prisons

Hiring Majors: Nursing, Psychology, Criminal Justice

Lipscomb University

MBA, MHA (Healthcare), MAcc and others

LMU-DeBusk College of Osteopathic Medicine

LMU-Caylor School of Nursing

LMU-College of Veterinary Medicine

LMU-DCOM Master of Science

LMU-School of Business Graduate Programs

LMU-School of Education

LMU-Doctor of Occupational Therapy Program

Milligan University

Healthcare, MBA, Education Programs

LMU-Physician Assistant Program-Harrogate

LMU-Duncan School of Law

Concord Veterinary Hospital

Hiring Majors: Veterinary Technician

Claiborne County Board of Education

Hiring Majors: Education

LMU-School of Arts, Humanities & Social Sciences Graduate Programs

Youth Villages

Hiring Majors: Psychology, Sociology, Counseling, Social Work, Child and Family Studies

Pattison Sign Group

Hiring Majors: Business, General Studies, etc.

Boys and Girls Clubs of the TN Valley

Hiring Majors: Education, Social Work, Psychology

Emory & Henry College

School of Health Sciences

Carson-Newman University

MBA Program

Gatton College of Pharmacy

The Assurance Group

Hiring Majors: General Business, Professional Golf Management, Communication, Marketing, Accounting, etc.

Pellissippi State Community College

Hiring Majors: All

LMU-Professional Counseling Masters Program

Tennova/Community Health Systems

Hiring Majors: Nursing

Prosper Appalachia

Hiring Majors: All

LMU-Physician Assistant Program-Knoxville

Knox County Sheriff's Office

Hiring Majors: All

21st Mortgage Corporation

Hiring Majors: All

Spectrum Healthcare Resources

Hiring Majors: Nursing

Appalachian Christian Camp

Hiring Majors: Education, Youth/Leadership Focused

Walmart Store#739

Hiring Majors: All

Lincoln Memorial University

Hiring Majors: All

Big South Fork Medical Center

Hiring Majors: Nursing, Health Sciences-MLT & RT

LMU-Doctor of Education Program

DeRoyal

Hiring Majors: Biology/Microbiology

Commercial Bank

Hiring Majors: Business

ScribeAmerica

Hiring Majors: Pre-Health (Biology, Chemistry, Health Sciences, Nursing)

Life Care Center of Morgan County

Hiring Majors: Healthcare
 Check back for more details closer to the event.
Students: Watch the video below to learn how to prepare for a Career Fair.
---
 "Like" our
page to be notified of all of our events!
If you have any questions regarding the Career / Education Fair, or if you are interested in joining our list of growing employment partners please contact:
Jennifer Butcher, Director of Career Services

423-869-6679

Lincoln Memorial University
6965 Cumberland Gap Parkway
Harrogate, TN 37752