To inquire about this program:
Dr. Charlie Gee | 423.869.6386 | [email protected]
Career Outlook
According to the U.S. Burea of Labor Statistics, some professions within the Communication and Media field have a very positive outlook. Overall employment of broadcast and sound engineering technicians for example is projected to grow 8 percent from 2018 to 2028, faster than the average for all occupations.
Employment of audio and visual equipment technicians is projected to grow 12 percent from 2018 to 2028, much faster than the average for all occupations. More audio and video technicians should be needed to set up new, technologically advanced equipment or upgrade and maintain old, complex systems for a variety of organizations. For more details on the career outlook in the field of Communication and Media see: U.S. Bureau of Labor Statistics Occupational Outlook; Communication and Media .
Introducing the Communication and Media Program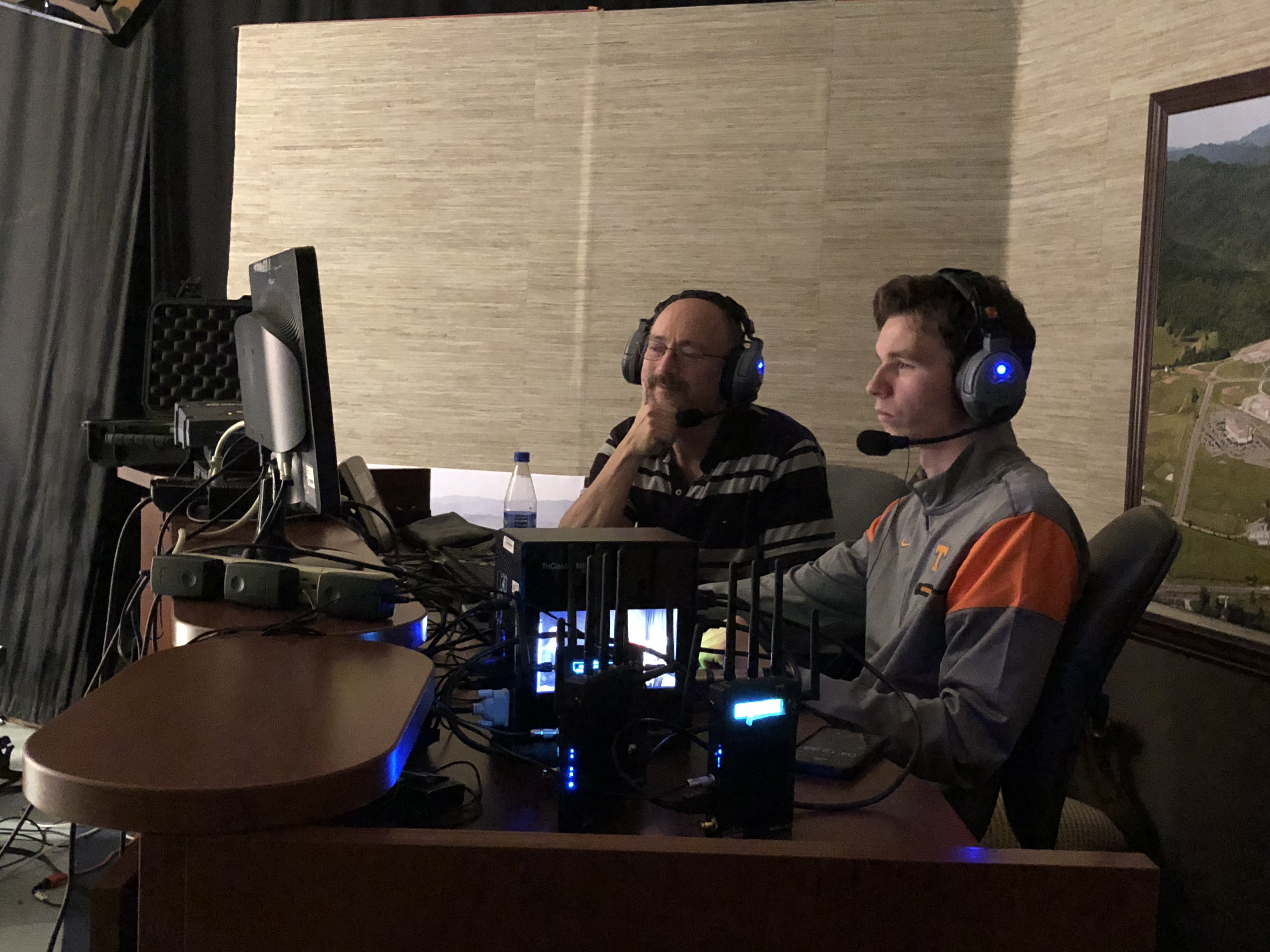 Communication and Media students get hand-on, real-time training with instructors
The Communication and Media curriculum focuses on:
Writing, producing & directing news packages for TV & radio.
Writing, producing & directing commercials, & public service announcements.
On-camera performance for news & dramatic productions for television and radio
Directing and announcing sports programming
Camera, editing, graphics, & audio skills for all media
Four Year Plan
Bachelor of Arts in Communication and Media - Four Year Plan
Career Opportunities
The LMU Communication and Media program prepares graduates for a number of career options within the field. Students have opportunities to learn on-air reporting, multi-media journalism and producing or explore off-camera skills as editors, copyeditors and videographers. One LMU graduate received an Emmy nomination for her work as a TV news producer.
Students with limited interest in news but who may want to write, direct, edit and produce short movies, commercials, public service announcements, radio programming or related material can explore their creative skills within the LMU Communication and Media Program. LMU graduates have even written, directed, edited and produced their own full-length movies.
Students interested in the sales and promotional events aspects of media communication learn proper sales techniques as well as the skills to write, produce and direct commercials or other promotional material. Many sales people have to be able to produce the content after they sell the advertisements to clients.
Overall, the Communication and Media major prepares students for a range of career options; on-air or behind the camera, students will be prepared for the broad range of job options now available in the media world.
Communication and Media Minor
Many companies and organizations and many jobs need people with the ability to write, produce, edit and direct content in a range of media. Whether it be in-house, online or on the air, a minor in MCOM opens doors for applicants in many fields. For people in education, understanding how the media works and the effects it may have on young people through our study of media literacy may allow teachers to understand the world of their students on a unique level.
Students with a Minor in Communication and Media take 21 hours of coursework including Introduction to Media, Writing for Digital Media, Multi-camera Production, Digital Editing, Media Law and Fundamentals of Acting.
Internship Opportunities
LMU Communication and Media students have interned with mid-market TV stations, area radio stations, and the David Letterman Show.
Internship Sites
WBIR-Channel 10 (NBC), Knoxville, TN; WVLT-Channel 8 (CBS), Knoxville, TN; WATE-Channel 6 (ABC), Knoxville, TN; ThinkTank, Knoxville, TN; WJDT FM 106.5 and WBGQ FM 100.7, Morristown, TN; MC-TV 22, Middlesboro, KY; Scripps Communication, Knoxville, TN; WFXY AM 1490, Middlesboro, KY.
Meet the Faculty