Arlene Amarante
Associate Professor of Law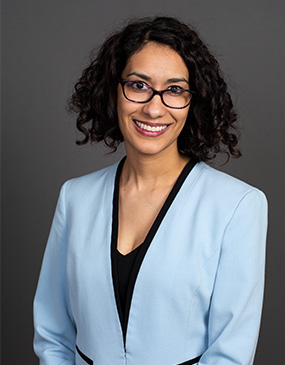 Contact Information Duncan School of Law Phone: 865-545-5321
Office Location: 315
Email: [email protected]
B.A., University of Nevada, Las Vegas
J.D., Nova Southeastern University
Courses taught: Legal Communication I & III, Immigration Law, Asylum Law
Professor Arléne Amarante joined the LMU Law faculty in 2019. She is a first-generation American from the pueblo of San José de la Boca, Tepehuanes, Durango, Mexico, where she spent much of her childhood. She received her bachelor's degree from the University of Nevada, Las Vegas (UNLV) and completed her legal studies at the Shepard Broad Law Center at Nova Southeastern University. Prior to joining the LMU faculty, she served as an instructor, a clinical supervisor, the executive director of a nonprofit law firm, and a legal aid attorney.
Professor Amarante's legal career began in 2012 at the Legal Aid Center of Southern Nevada, in Las Vegas, Nevada, where she represented indigent victims of crime in their immigration proceedings. Quickly recognizing that her passion was in immigration law, she formed the Immigrant Justice Initiative, a nonprofit law firm dedicated to providing education and legal representation for immigrants. Through the Immigrant Justice Initiative, Professor Amarante helped dozens of families navigate our complicated immigration system.
In 2014, Professor Amarante began her academic career at the University of Nevada, Las Vegas, where she designed and taught a sociology course entitled Race and the Law and taught a section of a women's studies course called Race, Class, and Gender. While at UNLV, she also supervised law students in the law school's immigration clinic, representing asylum seekers in their claims before the immigration court and the immigration service. When she moved to East Tennessee, Professor Amarante continued her interest in academia by serving as an adjunct instructor for a course entitled Asylum and Refugee Law at the University of Tennessee College of Law.
Professor Amarante has received a number of national awards, including the American Immigration Lawyers Association's Pro Bono Champion award in 2016 and Pro Bono Hero "Artesia First Responders" award in 2014, and she is a frequent contributor to various media outlets, including National Public Radio, the Las Vegas Review Journal, the Las Vegas Sun, and Telemundo.
She is currently working on her Master of Science in Social Justice and Community Action at the University of Edinburgh. In her free time, she pretends to be working on a novel and plays with her silly dogs, Manu and Kiko.
Back to previous page