April Meldrum
Professor of Law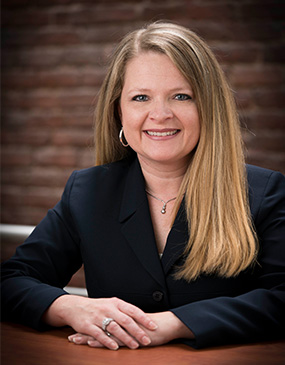 Contact Information Duncan School of Law Phone: 865-545-5319
Office Location: 222
Email: [email protected]
April Meldrum is a Professor of Law. Prior to joining LMU Law, James practiced as a trial attorney for nine years, focusing her practice in the areas of personal injury, domestic relations, juvenile law, and social security disability.
Meldrum was elected Anderson County Tennessee Juvenile Court Judge in 2006. As the Juvenile Court Judge, Meldrum instituted the Campus Court, an educational collaboration with the local education associations, district attorney's office and the Tennessee Department of Children's Services, earning her recognition by the Anderson County School Board and the Department of Children's Services.
Meldrum has been named as the YWCA Woman of the Year and has served on many community agency advisory boards. She has been a member of the National Juvenile & Family Court Judges Association, the Tennessee Juvenile & Family Court Association, and served as Secretary of the Legislative Committee of TJFCA.
Meldrum has a B.A. in English and an A.A. in Business Administration from Lincoln Memorial University, where she was on the Dean's List and was a charter member of the Sigma Tau Delta-English Honorary Society. James earned her J.D. from Samford University, Cumberland School of Law, where she was on the Dean's List and was the President of the Tennessee Student Bar Association. Meldrum is admitted to the Tennessee Bar, the Tennessee Supreme Court, the United States Sixth Circuit Court of Appeals, and the United States Supreme Court.
Meldrum teaches and focuses her scholarship on Domestic Relations, Juvenile Law, Adoption Law, Professional Responsibility, Law Office Management and Torts. She is also the co-author of the first textbook that focuses on Tennessee family law: 
Tennessee Family Law: Cases and Problems
.
Back to previous page